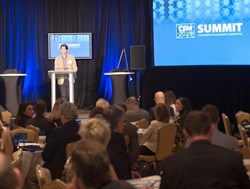 The CEM Summit brings together leaders... it's not just another marketing conference.
Atlanta, Georgia (PRWEB) October 21, 2013
PossibleNOW, the leading provider of customer engagement and enterprise preference management solutions, hosted the 2nd annual Customer Engagement Marketing (CEM) Summit last month in Atlanta. The event welcomed a capacity crowd of CEOs, CMOs, marketers and customer experience professionals for a dynamic discussion on personalization, preference and privacy. The attendance at the 2013 event grew by 40% over 2012.
"This event brings together leaders," said Diangelo Tyler, Online Marketing Director at Thompson Reuters. "It's important for me to hear their strategies, roadmaps and solutions. And it's refreshing because it helps me realize I'm not alone with the challenges I face. That's why it's not just another marketing conference."
The summit included presentations from Scott Olrich, President of Marketing and Platform at Responsys, Lisa Agona, SVP & Chief Marketing Officer at LexisNexis, marketing pioneer Ernan Roman and Eric V. Holtzclaw, PossibleNOW's Vice-President and GM of Preference Management Consulting and the author of the just-released Laddering: Unlocking the Potential of Consumer Behavior.
Presented as an annual focal point for a year-round conversation, the CEM Summit continues at http://www.cemsummit2013.com with video clips, original posts and presentation materials from featured speakers and other leading voices in customer engagement. You can also sign up to receive updates for CEM Summit 2014 as event dates, speakers and registration get underway.
"It's always exciting to see speakers and attendees connecting between sessions to solve real-world problems," said Scott Frey, CEO of PossibleNOW. "Nothing represents the power and intent of CEM Summit as well as the spontaneous, cross-disciplinary, cross-departmental brainstorming I find everywhere around me on breaks. This event is about getting things done."
About PossibleNOW
PossibleNOW, headquartered near Atlanta, Georgia, is the trusted source for enterprise preference management and compliance solutions. PossibleNOW leverages its expertise in information technology, database management, customer engagement, and consumer regulatory compliance to provide SaaS-based applications. PossibleNOW's MyPreferences® is an enterprise preference management solution that effectively collects and manages the contact preferences of customers and prospects including servicing, privacy, marketing (opt-in and opt-out) across all marketing channels and makes the preference data actionable. MyPreferences can be integrated into existing applications such as CRMs. For more information, call (800) 585-4888 or (770) 255-1020, e-mail info(at)possiblenow(dot)com or visit http://www.possiblenow.com.