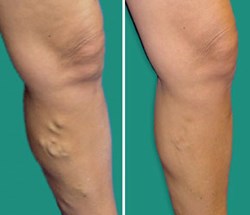 Varicose veins can cause significant pain and disability, but there are new treatment options for this common vein disorder.
Chicago, IL (PRWEB) October 21, 2013
The Chicago Vein Care Center is launching a new social media campaign to educate the public about the causes and treatment of varicose veins. According to the Chicago, IL Center, modern endovenous laser therapy (EVLT treatment) can be used to treat varicose veins.
Center Director and varicose vein specialist Dr. Ramon Castro says, "Varicose veins are among the most common vein disorders in Americans. Fortunately, there are new, effective vein disease treatments available which can remedy this early sign of venous disease." The Center makes use of state-of-the-art procedures to treat this common condition with excellent outcomes.
The Chicago Vein Care Center hopes that, by disseminating this type of information on their website and via Facebook and Twitter, the public will be more energized to seek treatment for varicose veins as part of a comprehensive vein health examination.
For more information, visit:
http://www.yourveinexpert.com/
Tel. (773) 283-7887
Varicose Vein Treatment Options
Varicose veins and spider veins are extremely common in men and women. While spider veins are very small, reddish veins on the surface of the skin, varicose veins are much larger, bulging, tangled veins that may appear bluish in color. Men and women suffer from varicose veins, although women are much more likely to have them.
Today, patients have access to a number of effective varicose vein treatment options. Advancements in technology and medicine have led to the development of effective, minimally invasive treatments that produce optimal results with few side-effects or downtime. These treatments include sclerotherapy, radio frequency ablation, phlebectomy, and endovenous laser ablation.
About the Chicago Vein Care Center
Dr. Castro is one of the most respected vein specialists in the nation. He is versed in the treatment of all vein diseases including life-threatening deep vein thrombosis. He and his team pride themselves on being at the forefront of vein disease treatment. They recognize the importance of educating the public in regard to specific vein disorders, preventive measures as well as both conservative and surgical treatment options. In addition to his position as the Director of the Chicago Vein Care Center, Dr. Castro is the Medical Director and CEO of Belmont and Central Medical Center and Clinical Instructor for the University of Illinois Medical School.