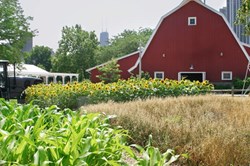 Decatur, IL (PRWEB) October 24, 2013
With farmers and agricultural businesses always seeking ways to make their process more energy efficient, and therefore more profitable, Home Comfort Geo seeks to aid in maximizing usability of land and acreage. Farmers are at an advantage, relative to typical Decatur residents, due to the amount of land they own. Recent trends have shown that by choosing a system for geothermal heating, Decatur Illinois farmers experience significant saving on monthly utility bills.
In addition to using a geothermal heating system for a farms' residents and animals during the cold season, geothermal energy is used to heat and humidify greenhouses, allowing farmers to raise crops in the winter as well as the summer. Geothermal heating systems also provide supplemental hot water, which can dramatically improve winter crop success rates.
Lesser-known uses are also available for geothermal energy to farmers in Decatur. Farms use geothermal energy to power milk pasteurizers, maintain a temperate environment for fish farms, and even melt snow on roads so production isn't slowed. Small and large businesses, as well as homeowners, are always looking to save on their bills, and Home Comfort Geo believes geothermal heating and cooling systems make that feasible for many.
For more information about implementing geothermal heating and cooling systems, farmers and agricultural business owners should visit http://homecomfortgeo.com/.
About Home Comfort Geo
Home Comfort Geo is the leading source for geothermal statistics, technology, and innovation. Our dealers proudly serve residents throughout Illinois, Indiana, Kentucky, and Missouri.