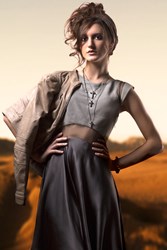 New York, NY (PRWEB) October 28, 2013
Last week, Claire Bee, an emerging New York luxury womenswear label, launched their spring-summer 2014 collection at Showroom New York's 'Made in NY' show. Her pieces, which work with a wide variety of materials including fur, leather, and silk, employ contrast between these textures to create a core focus of contrast for her collection. The beauty of motion in dance and the broad patchwork tapestry of city life are strong influences on the designs.
The new line, which retails from $204 for a raw silk panel tank, to $1090 for a constructed lamb-skin moto jacket, is slated for full release in spring 2014.
Prior to launching her collection, Claire Bee graduated from Parson's fashion design program. She further honed her skills at Oscar de la Renta and later, Diane von Furstenberg.