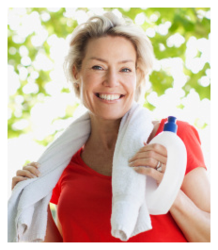 Healthy aging is simply a matter of choosing a healthy lifestyle.
Hamilton Square, NJ (PRWEB) October 22, 2013
October 22nd, 2013. Hamilton Square, NJ. The Comprehensive Vein Treatment Center is announcing the launch of a new social media campaign to educate the public about healthy aging. Americans are living longer than ever before. The secret to living a long and healthful life is not a secret. Senior health rests on eating a well-balanced diet, staying active both mentally and physically and getting regular medical checkups.
Dr. Imtiaz Ahmad, top vein doctor and Director of the Comprehensive Vein Treatment Center, advises the public, "Diet and exercise are the most important ingredients of a healthy lifestyle. Lack of exercise and excess weight are risk factors for vascular disorders including chronic vein disease. Here at the Center, we strongly encourage our patients to practice a regular exercise routine and to follow a balanced diet." Unfortunately, more than half of all Americans do not exercise regularly, and more than a third suffers from obesity. Obesity increases the risk of heart disease, stroke and diabetes. Bulging vein problems are more likely to affect people who are overweight. Varicose veins, chronic vein disease, and painful swollen legs can seriously interfere with our quality of life as we age.
The Comprehensive Vein Treatment Center encourages the public to take simple measures to improve their health: start with a daily walking routine; eat smaller portions; do not forget about fruits and vegetables. The steps we take now will have a lasting impact on our health in the future. The Center will be promoting healthful aging through its Facebook and Twitter outlets throughout the month of October.
For more information, please visit:
http://www.cvtc.net/
Varicose Vein Treatment Options
Varicose veins and spider veins are extremely common in men and women. While spider veins are very small, reddish veins on the surface of the skin, varicose veins are much larger, bulging, tangled veins that may appear bluish in color. Men and women suffer from varicose veins, although women are much more likely to have them.
Today, patients have access to a number of effective varicose vein treatment options. Advancements in technology and medicine have led to the development of effective, minimally invasive treatments that produce optimal results with few side-effects or downtime. These treatments include sclerotherapy, radio frequency ablation, phlebectomy, and endovenous laser ablation.
About the Comprehensive Vein Treatment Center
Dr. Imtiaz Ahmad is a Board Certified vascular and thoracic surgeon. The Comprehensive Vein Treatment Center (CVTC) is made up of a team of professionals dedicated to your physical and emotional well-being. Dr. Ahmad, a leader in vein disease treatment, offers state-of-the-art, minimally invasive treatments including sclerotherapy, radiofrequency ablation, endovenous laser therapy (EVLT), and microphlebectomy. The Center is also well known for its modern nutritional and anti-aging therapies.