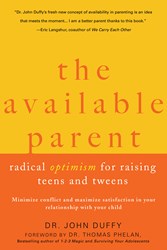 (PRWEB) October 21, 2013
Dr. John Duffy, national parenting expert for NBC's Steve Harvey, was recently featured in an MSN article about "9 Secrets to Raising a Happy Child." The article focuses on how to raise resilient kids with a positive outlook, no matter what life throws at them.
Dr. Duffy's advice is that "kids are much happier when they are helping others, whether it's doing chores around the house or volunteering in their community. Service not only drives empathy, but also perspective and gratitude. They also, as a bonus, tend to be less depressed, anxious and self-absorbed."
John Duffy is a clinical psychologist and certified life coach with a thriving private practice in the Chicago area. Dr. Duffy works with both teens and adults and specializes in helping parents maximize satisfaction and minimize conflict in their relationships with their teenagers. He is also the national parenting expert for Steve Harvey, which airs nationally on NBC.
The Available Parent
Radical Optimism in Raising Teens and Tweens
By John Duffy
Dr. Duffy can help you shift the dynamic in your relationship with your teenager. Imagine what it would be like if healthy conversations replaced angry outbursts or petulant silence. Using the techniques in The Available Parent, you can begin to enjoy a healthy, satisfying, new kind of relationship with your teenager—one based on a foundation of radical optimism, rather than fear-based control. The Available Parent is also available as an audiobook.