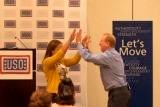 Caregivers, those people that are giving so much of themselves to care for someone else…amazing, amazing work that you all do every single day.
Virginia Beach, VA (PRWEB) October 18, 2013
Caregivers gathered in Virginia Beach today to tackle issues unique to caring for our nation's wounded, ill or injured service men and women. The USO Caregivers Conference, held twice annually, brought together caregivers (husbands, wives, sisters, friends) from Virginia Beach and surrounding military communities like Camp Lejeune, N.C. and the greater Washington D.C. area, connecting them to fellow caregivers as well as national experts and providing resources and tools for coping with the challenges of caring for our nation's wounded.
The day kicked off with laughter and a morale boosting ice breaker led by Steve Shenbaum of game on Nation. Shenbaum, a motivational speaker who works with top athletes. Shenbaum encouraged the caregivers to do something they may not be used to doing: be selfish, take some time for yourself and have fun doing it. The interactive session challenged the caregivers to be empowered in their role, demonstrating confidence and challenging them to embrace laughter and to put self first.
"I'm asking you as a caregiver to be the most confident caregiver you can be," said Shenbaum. "And if you don't have the resources you can find resources… accept that empowerment and remember to surround yourself with people that have your back."
Those in attendance often wear many hats, including both spouse and parent, and are often the main financial provider for the family.
"Caregivers, those people that are giving so much of themselves to care for someone else…amazing, amazing work that you all do every single day," said John I. Pray, Jr. USO Executive Vice President and Chief of Staff. "We wanted to take a special day for you all. This is about you, this whole conference is about you, thank you for what you do and thank you for coming here today."
In response to feedback from previous conferences, the USO adapted this event to include smaller intimate breakout sessions designed to provide caregivers with a safe environment to share personal challenges associated with caring for a wounded, ill or injured service member. The importance of understanding their service member's injuries, taking time for self, and rebuilding family bonds topped the list of topics. Caregivers were provided resource materials to help them put into practice at home the advice and guidance they received during the conference.
USO Tour Veteran and children's entertainer, Trevor Romain, led the "Raising Your Children and Teens During Transition" session, addressing concerns from caregivers about the affects of visible and invisible wounds on children. Romain shared stories and experiences he has learned from presentations and meetings with thousands of military children worldwide during more than six years of touring with the USO.
"We expect children to understand why they behave the way they do," said Romain. "They are kids. We need to let them know it's okay to be angry, to be frustrated. It's what they do with those feelings that is important."
The conference closed with an art therapy activity led by instructors from the USO Warrior and Family Center at Fort Belvoir, Virginia. Children and parents created their own visual journal using a variety of materials to capture feelings and thoughts.
USO Caregivers Conferences are part of the more than 200 events offered at locations around the world to support the continuum of care that will give returning wounded, ill and injured men and women the best chance to heal with honor. The USO's goal for these healing heroes and their families is to sustain hope and instill confidence that they can achieve that happy and fulfilling future; keep their families strong and together; and for our nation's wounded to have a plan for the future with an active support network in place.
Click here for images from today's event.
About the USO
The USO lifts the spirits of America's troops and their families millions of times each year at hundreds of places worldwide. We provide a touch of home through centers at airports and military bases in the U.S. and abroad, top quality entertainment and innovative programs and services. We also provide critical support to those who need us most, including forward-deployed troops, military families, wounded warriors and families of the fallen. The USO is a private, non-profit organization, not a government agency. Our programs and services are made possible by the American people, support of our corporate partners and the dedication of our volunteers and staff.
In addition to individual donors and corporate sponsors, the USO is supported by President's Circle Partners: American Airlines, AT&T, Clear Channel, The Coca-Cola Company, Grand Canyon University, jcpenney, Jeep, Kangaroo Express, Kroger, Lowe's, Northrop Grumman Corporation, Procter & Gamble and TriWest Healthcare Alliance and Worldwide Strategic Partners: BAE Systems, The Boeing Company, Lockheed Martin, Microsoft Corporation and TKS Telepost Kabel-Service Kaiserslautern GmbH & Co. KG. We are also supported through the United Way and Combined Federal Campaign (CFC-11381). To join us in this patriotic mission, and to learn more about the USO, please visit uso.org.