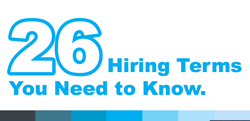 Our easy-to-read guide will help hiring managers discover more efficient ways to select the right person for the job. -- Erin Borgerson, Marketing Coordinator, Hireology
Chicago, IL (PRWEB) October 18, 2013
Hireology, the leading selection management platform for distributed enterprises, has announced a new eBook titled "26 Hiring Terms You Need To know". The guide contains 26 hiring and HR concepts that aim to make the hiring process more straightforward for selection managers.
"26 Hiring Terms You Need To Know" features a hiring term for each letter of the alphabet, with a full definition and analysis of the concept. The eBook will be a go-to guide for everything a hiring manager needs to know in order to hire successfully.
"We wanted to introduce an eBook that would touch on all things hiring," said Erin Borgerson, Marketing Coordinator of Hireology. "Our easy-to-read guide will help hiring managers discover more efficient ways to select the right person for the job."
To download this eBook, please click here. If you would like to learn more about the hiring process please go to the Better Hiring Today blog at
About Hireology
Hireology is the leading selection management platform for distributed enterprises. Their award-winning Selection Manager™ includes everything an operator needs to manage their hiring process, including a fully-hosted career site, integrated job postings, compensation analysis, pre-hire assessments, interview guides, background checks, skills verification and more. Franchise systems, banks and financial institutions, healthcare systems, dealer networks, and other multi-site operators use Hireology's web-based platform to deliver consistent and repeatable hiring decisions in the field - leading to lower turnover and increased profitability per location. For more information, please visit our website.