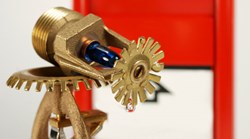 Burbank, CA (PRWEB) October 21, 2013
In the state of Texas, when a business owner sees General Liability offerings for fire sprinkler installers, they may be mistaken that this insurance is limited to just that category of professionals in the fire suppression industry. However, general liability insurance that is written for the industry is also offered to anyone involved in the sales, service, maintenance, testing, design and fabrication of water-based systems.
The benefit most commonly recognized in general liability insurance is in those instances when a customer may be injured while work is being performed at a home, office or other worksite. A trip, slip or fall over equipment or supplies may send the customer to a physician or hospital. General liability insurance will cover the medical bills as well as any legal fees that are incurred. This coverage is also extended to the policy holder's place of business, warehouse or workshop.
Another level of coverage is Product Liability. In this instance a contractor may sell and/or install sprinklers to a business or home and it is discovered that the parts were defective or the labor was under par. The business or home owner may be injured as a result and claim losses. The general liability policy will cover the insured in these instances and pay medical and legal fees. It will also pay legal fees if the case goes to court and the contractor is found not to be at fault.
A completed operations feature of general liability insurance will protect the fire suppression professional even after work has been completed. Every year there are instances when fire sprinkler systems fail and usually the fingers are pointed back to the installer. Even a sprinkler system engaging for no apparent reason can damage the customer's property, inventory or even hurt employees. In Texas, general liability insurance for sprinkler installers will cover these completed operations.
To learn how USA Business Insurance can help Texas companies involved in the fire suppression industry with general liability insurance, visit http://businessinsuranceusa.com/fire-sprinkler-contractor-insurance.
About USA Business Insurance: USA Business Insurance writes many types of business insurance for companies in Texas, whether they are sole proprietors or companies with multiple employees.