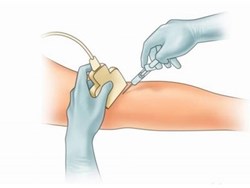 Used regularly by vein doctors for 50 years, sclerotherapy is a minimally invasive and fast procedure.
Nashville, TN (PRWEB) October 23, 2013
October 23rd, 2013. Nashville, TN. Siragusa Vein & Vascular in Nashville, TN says there is a compelling case for continued widespread use of sclerotherapy, a time-tested and effective varicose vein treatment. Used regularly by vein doctors for 50 years, sclerotherapy is a minimally invasive and fast procedure, but some people are still unaware of its benefits.
The process involves injecting a sclerosing chemical into the veins, using a fine needle and local anesthetics. The chemical collapses the vein and it gradually disappears. The patient will be on his or her way after a short rest. The cosmetic benefits are remarkable and the appearance of the legs can be transformed.
Dr. Tif Siragusa, leading vein doctor at Siragusa Vein & Vascular, explains what happens next: "We often encourage patients to make some lifestyle changes after sclerotherapy treatment is completed. We recommend they start exercising regularly, and that patients who are overweight receive practical support on weight loss, in order to reduce the risk of future vein problems."
Dr. Siragusa and his team are using Facebook and Twitter to provide advice on the vein treatments available to patients in Tennessee.
For more information, see:
http://www.nashvilleveinandlaser.com/
Varicose Vein Treatment Options
Varicose veins and spider veins are extremely common in men and women. While spider veins are very small, reddish veins on the surface of the skin, varicose veins are much larger, bulging, tangled veins that may appear bluish in color. Men and women suffer from varicose veins, although women are much more likely to have them. Today, patients have access to a number of effective varicose vein treatment options. Advancements in technology and medicine have led to the development of effective, minimally invasive treatments that produce optimal results with few side-effects or downtime. These treatments include sclerotherapy, radio frequency ablation, phlebectomy, and endovenous laser ablation.
About Siragusa Vein and Vascular Center
The Siragusa Vein and Vascular Center is nationally recognized in venous therapies and comes highly recommended by many physicians. Dr. Siragusa, Director of the center, provides a personal, individualized approach to each patient based on their history of vascular problems, physical exam findings, as well as the detailed information gained by their Duplex Ultrasound.
Siragusa Vein and Vascular Center's minimally invasive techniques eliminate the down time associated with surgical procedures of the past. Most patients drive themselves to the office and back home after treatments, avoiding the inconvenience of disrupting the schedules of family or friends. Moms can get back to taking care of the kids that day and most people are back to work the next day. As a specialist in vein treatment and vascular surgery, Dr. Siragusa also excels in the evaluation and treatment of other conditions including Carotid Artery Stenosis, Abdominal Aortic Aneurysms, Peripheral Vascular Disease, and Deep Vein Thrombosis.
Siragusa Vein and Vascular Center
http://www.nashvilleveinandlaser.com/