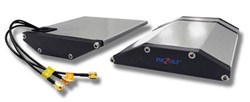 WiBuoy Technology as the first M-PAM solution addresses unique problems associated with tracking passive assets with long battery life and a wireless sensor interface.
Sunnyvale, CA (PRWEB) October 20, 2013
ReZolt Corporation today launched the WiTrak(TM) tracker with WiBuoy Technology to meet the unique requirements of the multimodal passive asset management market.
WiTrak, using ReZolt's proprietary long-life wireless beaconing WiBuoy Technology, is designed to track discrete passive assets such as shipping containers, truck trailers, railcars and heavy field equipment. Designed to run on batteries for several years, it integrates GPS for location, GSM/GPRS and Wi-Fi for network connectivity, and an optional 433 MHz interface for external sensors including an electronic lock.
Multimodal Passive Asset Management or M-PAM is the next frontier in M2M with tens of millions of passive assets looking for a solution. Multimodal in M-PAM goes beyond the mode of transportation. Modes also include different asset states such as moving or stationery, locked or open, and sensor states related to temperature, humidity, pressure, etc. ReZolt is the leading solution provider for M-PAM with WiTrack and WiBuoy Technology.
Passive assets, including shipping containers, truck trailers, railcars and heavy equipment in construction, agriculture, forestry and oil and gas are typically unpowered, unobservable and unmanaged, and present unique challenges for tracking their location and condition. Tracking and management technology must be self-powered and withstand harsh environmental conditions. To minimize service costs, tracking technology must offer battery life exceeding a year and itself be remotely managed, maintained and upgraded.
WiBuoy Technology includes fine-grained, programmable power management that integrates and optimizes complex behavior of several hardware and software components including communication devices, sensors, processors and batteries. This technology is embedded in WiTrak through ReZolt MultiComms(TM) Software. ReZolt also offers custom versions of the WiTrak device through ReZolt FirstM(TM) Services.
Fleet management products installed inside the cabin of a vehicle are not suitable for M-PAM, as they require constant DC power (not multimodal). Passive tagging technologies cannot provide near-continuous monitoring and require the deployment of an external infrastructure along the entire trajectory of the asset.
WiTrak includes an easy-to-implement and customizable interface to a cloud server. It is immediately available with Nexus Cloud Service from ReZolt partner Seecontrol, Inc.
"We are pleased to work with ReZolt and use the WiTrak device with WiBuoy Technology to build Container Tracking Solutions," said Parthesh Shastri, VP Marketing at SeeControl, Inc. "WiTrak from ReZolt offers a versatile platform that allows us to easily integrate into and build applications tailored to user requirements."
"WiBuoy Technology as the first M-PAM solution addresses unique problems associated with tracking passive assets with long battery life and a wireless sensor interface," said Vijay Parmar, President and CEO of ReZolt Corporation. "System integrators in shipping, logistics and transportation now have access to an end-to-end M-PAM solution that would allow them to reduce operating costs, increase operational efficiency and revenue."
WiTrak Features:

GPS-based location tracking capability
GSM/GPRS for highly available network connectivity (roadmap to CDMA and 3G)
Wi-Fi for low power and low cost network connectivity
Temperature sensor
Accelerometer used to sense motion and shock
Battery-powered with external power option
ReZolt MultiComms Software allows rapid development of custom applications
Ruggedized IP-67 compliant enclosures for the main unit and the antenna unit
Optional 433 MHz interface for external sensors
Availability
WiTrak is available now for field trials and prototyping with production in early 2014.
About ReZolt
ReZolt Corporation provides solutions to rapidly deploy M2M/IoT connectivity to manage passive assets and their contents. ReZolt technology enables low power, multi-protocol, multi-sensor wireless connectivity for Internet of Things and Machine-to-Machine communications. Our solutions enable rapid and cost-effective product development and deployment of "smart" devices in logistics, transportation, medical devices, and industrial/building automation.
ReZolt is based in Sunnyvale, California.
Media Contact:
+1 408-647-3399
info(at)ReZolt(dot)com