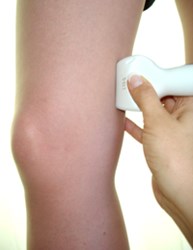 Getting a vein screening is a painless and effective way to prevent or waylay venous diseases, especially in people with an increased risk.
(PRWEB) October 31, 2013
October 31st, 2013. Nashville, TN. The Siragusa Vein and Vascular Center is presenting a new article to raise awareness of the impact of vein disease and to promote the usefulness of vein screening in vein care. According to the Center, catching vein disease in its early stages or at the first sign of a problem, such as swollen legs and ankles, before the disease progresses into more serious illness is essential for patients with a higher risk of developing the disease and those who already have venous disease can live healthier lives.
Dr. Tif Siragusa, director of Siragusa Vein and Vascular in Nashville, comments on the importance of not sweeping your vein health under the table: "With any type of vein inadequacy, the reversed flow and pooling of the blood in the legs can sometimes progress into a life-threatening condition, and there's often a simple outpatient treatment to correct the problem." The Center provides both comprehensive screenings and up-to-the-minute vein treatment options to ensure the health of their patients.
It is the hopes of the friendly team at Siragusa Vein and Vascular Center that more patients will be screened for vein issues in order to take charge of their vein health. They urge patients to call their Siragusa Vein & Vascular Nashville office at 615-777-0744 for any vein health inquiries or to visit their website for a complimentary virtual consultation.
For more information, visit:
http://www.nashvilleveincenter.com/
About the Siragusa Vein and Vascular Center
The Siragusa Vein and Vascular Center is nationally recognized in venous therapies and comes highly recommended by many physicians. Dr. Siragusa, Director of the center, provides a personal, individualized approach to each patient based on their history of vascular problems, physical exam findings, as well as the detailed information gained by their Duplex Ultrasound.
Siragusa Vein and Vascular Center's minimally invasive techniques eliminate the down time
associated with surgical procedures of the past. Most patients drive themselves to the office and back home after treatments, avoiding the inconvenience of disrupting the schedules of family or friends. Moms can get back to taking care of the kids that day and most people are back to work the next day. As a specialist in vein treatment and vascular surgery, Dr. Siragusa also excels in the evaluation and treatment of other conditions including Carotid Artery Stenosis, Abdominal Aortic Aneurysms, Peripheral Vascular Disease, and Deep Vein Thrombosis.
Siragusa Vein & Vascular Center
http://www.nashvilleveincenter.com/
Tel. 615-777-0744