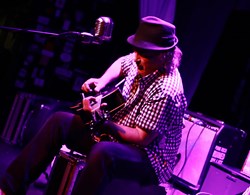 Love Rainy Day Karma, thought "Sunny Afghanistan" would be the anthem for anyone trying to change the world on their own! - Tom Pellam, Sydney, AU
Philadelphia, PA (PRWEB) October 22, 2013
Pop Americana Artist Eric Sommer heads to Austin in late November for The Slab Music Series at The South Austin Food Court in Austin, Texas. The Festival runs from November 22 thru December 13 for 4 Friday shows 7-10pm on Nov. 22, 29 and Dec. 6, 13.
This series will highlight the potent South Austin music scene. and uses a parking lot and a small electrical outlet to create a music scene in the middle of trailers, picnic tables and awnings. The Slab Music Series at The South Austin Food Court in Austin, Texas is free and open to the public.
Eric is the featured artist for this series. In between the Friday shows, Eric will appear a few miles south of Austin at The Triple Crown in San Marcos, Texas for two shows: featured on the early evening showcases and also additional shows in the area as they become available.
Eric has been circling the Texas scene of late - Dallas, Waxahatchie, Austin and San Marcos - and is picking up a bit of traction - and a lot of new fans - in the area. The In The Music Room program run by Randy Treadway in Waxie has been especially beneficial to Eric Sommer, and to many Texas artists over the years.
These travels are building material for Mr. Sommer's new recording project and adding to a backlog of songs, stories and prose. This material will make it's way into a new record, a new volume of prose and new songs and stories. The new record follows on the heels of Rainy Day Karma, the Spring 2013 release of 12 songs and soundscapes.
The new record is being recorded in London, songs include "Working My Way To The Bottom", "Death Ray Cataclysm", "I Asked The Universe" and "That Car Won't Drive", and release date in CD, cassette and vinyl is June 2014. Instrumentation is sparse and vocals will be mastered in Nashville. Rainy Day Karma was recorded in Pittsburgh, PA.
On this record the focus, according to Clyde is Thinking management, will be a gritty take on "people, places and things" and celebrating the remarkable ordinary, the "every-day-ebb-and-flow" of streets and city life.
Eric Sommer is currently in Pittman, New Jersey, holed up at The Bus Stop Music Cafe, working on new material for The Johnson City Folk Festival. The Johnson City Folk Festival is now located in Unicoi, TN and starts November 7 and runs through November 10th.
Eric started his musical career in the Boston area and h as been a regular player on many national tours and showcases. He worked in Europe for two years on Danish, German and British rock stages, returned to Boston and formed The Atomics, a cult power-pop band in South Boston. His influences are as diverse as Townes Van Zandt, Steve Earle, Steve Howe and The Ramones. Mr. Sommer's current project with power trio "The Solar Flares" shake up Chet Atkins and David Bromberg influences with those of Randy Travis and Elvis Costello - a remarkable mix.
With open tunings, slide guitar, lap-slap tone guitar and a remarkably aggressive fingering style approach, watching Eric Sommer will make you jump out of your seat and holler for joy! There are very few players who have maintained this authentic American style of guitar and Eric Sommer is one of the very best.
Amen.
____________________________________________________________________________
For Music Samples please visit Eric Sommer online for additional schedules or contact him at eric(at)ericsommer(dot)com or call 202-255-1995. Additionally, you can find Eric Sommer on Facebook at ericsommermusic and FB@itsericsommer. RAINY DAY KARMA is also available on iTunes and CDBaby.
Eric Sommer is represented by Clyde is Thinking, and PR programs are managed thru MTG/NY; For more information, promo/appearance requests or to set up an interview, please contact Tom Monihan 202-255-1995.