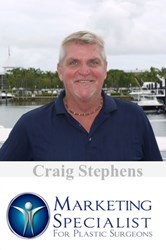 You are a Plastic Surgeon. Let me help you promote your name as a local expert in Plastic Surgery in all the media channels. I'm Craig Stephens, a Plastic Surgeon Marketing Specialist.
Key Largo, Florida (PRWEB) October 20, 2013
Craig Stephens, CEO of Marketing Specialists For Plastic Surgeons, announced today that his marketing firm will be focused entirely on plastic surgeons and the plastic surgery industry. Stephens says that his goal is to help improve both the online reputation and internet standing of plastic surgeons across the country.
"I chose to specialize my marketing for plastic surgeons because I saw it as one of the least served marketplaces in the high-end service industry," said Stephens. "Most of these surgeons, if they do decide to market themselves, use more general marketing firms. But more often than not these kinds of unspecialized marketing firms offer very little, if any, return on investment for the business owner."
Stephens says that different industries will respond to different marketing techniques, and while some industries develop successful relationships with general-service marketing firms, others, such as the plastic surgery industry, aren't as lucky. "Plastic surgery is a medical niche market" he said, "with unique market trends that general marketing firms might not have a specialized understanding of."
More generalized marketing firms work with clients from a wide range of industries, and because of this they have limited field knowledge of any industry in particular. Research into these new industries can be time consuming and expensive. Stephens, however, believes he will not have this problem because he is "tending specifically to a single group, and when you work with one group only you gain a much better idea about which marketing strategies work and which ones don't."
The ultimate goal, says Stephens, is to create a system that allows plastic surgeons to focus on the patients and procedures that they enjoy the most. Stephens, in turn, will work behind the scenes as a marketing expert that specifically addresses online reputation. He will also focus on marketing strategies, media relations, advertising and public relations.
"It's this system that allows me to offer a 700% ROI completely risk free" he said. "To this day I have never heard of such a commitment from any other service, both online and offline."
About Marketing Specialists for Plastic Surgeons:
Florida-based Marketing Specialists for Plastic Surgeons is a company directly involved in developing marketing techniques for both the cosmetic and plastic surgery industries. The company is owned and operated by Craig Stephens.
For further information please contact: Craig Stephens, President, 305-879-5631, or visit the site: http://www.marketingspecialistforplasticsurgeons.com http://www.marketingspecialistforplasticsurgeons.com/