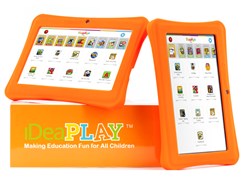 "Parents will appreciate that the iDeaPLAY is evenly balanced to both entertain and educate their kids and is more than just a digital baby sitter," said Danish Ahmed, vice president of operations, iDeaUSA.
Los Angeles, CA (PRWEB) October 21, 2013
iDeaUSA, the consumer electronics manufacturer, has launched the iDeaPLAY – a tablet especially built for kids to enjoy and designed to give parents peace of mind. The fully-featured Android device is compliant with Children's Online Privacy Protection Act (COPPA), ensuring children (ages 4 and up) a fun and educational experience with flexible parental controls. The tablet comes pre-loaded with great apps and premium content, but is priced at just $129 (USD), keeping family budgets in mind.
"The iDeaPlay is the most affordable and versatile, yet safe, kids tablet available. It gives parents everything they need while their children get everything they want," said Danish Ahmed, vice president of operations, iDeaUSA. "Parents will also appreciate that the iDeaPLAY is evenly balanced to both entertain and educate their kids and is more than just a digital baby sitter."
Safety First
The iDeaPlay tablet is designed to give parents complete control of the device at all times, even when they aren't around. The Manage Mode for parents controls let them decide which content their kids can view and which features can be accessed in Kids Mode. The iDeaPlay also includes a customized version of Famigo software which regulates the tablet content by automatically removing unwanted content such as social media access, advertisements, pop up ads, ecommerce requests, chat and browser features. Of course, the COPPA compliant settings ensure that children are kept safe from content and that their privacy is never compromised either.
The safe restart also ensures that all parental settings remain enabled even if the tablet is turned off and on again. If kids want more content, they can create a wish list and parents can then decide what to download or purchase. Parents are able to monitor their child's activity by receiving a weekly recap email which provides an update on the child's use of applications
Educate and Entertain
Parents can easily manage access to apps to retain a balance between educational and entertaining content. The iDeaPlay can be updated with free and premium apps, movies, e-books and music from the iDeaApp Marketplace or by visiting Amazon's app store.
"As a parent, my number one priority is always my children's safety, so it is especially reassuring that when I give my kids the iDeaPLAY, I know that it is COPPA compliant, so I don't have to worry about what they are doing," said Pattie Cordova, mother and lifestyle expert. "I also like that I can set the tablet up so that my kids are getting as much educational time with the iDeaPLAY as they are being entertained."
Great Value
The iDeaPLAY lets parents relax and not worry about having to give their kids more expensive family gadgets. At $129 USD, the iDeaPLAY is hundreds of dollars less than comparable products, affording parents peace of mind when making purchasing decisions about devices for their kids.
Through the Famigo interface the iDeaPlay includes high quality premium content from Jim Henson, DreamWorks, Dr. Seuss, The Wiggles and apps including Doodle Jump, Shrek Forever After, Ice Rage, Yumsters, Toddle Fun Counting, Kids ABC Alphabets, Color & Draw, Riptide GP Toddle Tapping Zoo, Math Bugaboo.
Parents can also enjoy the iDeaPLAY by switching to a Regular Mode to use it themselves, enabling the full power of the tablet to access the internet and services including Netflix and Skype, like a regular Android device.
Availability
The iDeaPLAY is available now online by visiting Amazon.com or it can be purchased at one of many retail locations, including Fry's Electronics and HEB stores across the country.
The tablet also comes with complete, US based customer support service and also extended warranty options are available as well. For more information, please visit: http://www.iDeaPLAYkids.com
###
About iDeaUSA
iDeaUSA is a leading US consumer electronics company focused on products that are competitively priced yet high quality. iDeaUSA designs better products, in the USA, that are expertly optimized to include the most important features and functions, offer "open standards" connectivity and compatibility and are manufactured to high standards. To see a complete list of iDeaUSA products, please visit: http://www.ideausa.us/