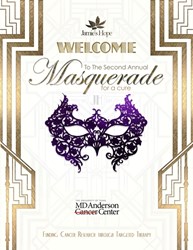 This year's event will be even more glamorous than the last! We strive to provide our supporters with an experience that will be discussed long after the evening comes to an end.
Houston, Texas (PRWEB) October 19, 2013
Jamie's Hope hosts the Second Annual Masquerade for a Cure Gala at the River Oaks Country Club in Houston, Texas on Friday, October 25, 2013 from 6:00 p.m. - 10:00 p.m. Monday, October 21, 2013 marks the final day to secure tickets to this luxurious event. Limited General Admission and VIP Tickets are available at http://www.JamiesHope.org/Masquerade2013.
Up to 300 supporters will join together to support Targeted Therapy research at The University of Texas MD Anderson Cancer Center. Exquisitely adorned guests will delight in an all-inclusive evening including; VIP reception (6p-7p), open premium bar, three-course plated dinner, live music & exotic entertainment as well as an over-the-top live, silent and big board auction featuring over 120 items!
Jamie's Hope Masquerade for a Cure 2013 boasts another remarkable silent auction this year, featuring sports memorabilia from current and former legendary athletes around the world in all sports such as (Golf) Tiger Woods, Nicklaus, Watson, Hogan, Palmer, Player; (Boxing) Muhammad Ali, Mosley, Sugar Ray Leonard; (Baseball) Mickey Mantle, DiMaggio, Ryan, Clemons, Biggio, Berra, Spahn, Williams; (Football) RGIII, Johnny Manziel, Namath, Rice; (Houston Texans) Arian Foster, J.J. Watt, Andre Johnson, Brian Cushing, Ed Reed, Matt Schaub; (Basketball) Jerry West, Magic Johnson, Jeremy Lin, James Harden; (Musicians) Journey, Kenny Chesney, Steven Tyler. Certificates from fabulous Houston Restaurants such as the world renowned Del Frisco's Double Eagle Steak House, The Palm, and Killen's Steakhouse. Beautiful luxurious travel get-a-ways including stays in Thailand, Las Vegas, Reno, Panama, Barbados, Antigua, and St. Lucia. Foursomes at top golf courses including Redstone, Walden on Lake Conroe, Northgate and Wildcat. Fashion (for men and women) from local top designers and much more! The Live Auction had the crowd battling last year and this year's special Big Board items will be even more exciting.
"This year's event will be even more glamorous than the last! We strive to provide our supporters with an experience that will be discussed long after the evening comes to an end." ~Jamie Gilmore, founder of Jamie's Hope
The Jamie's Hope team works year-round to produce top-notch fundraising events benefiting MD Anderson Cancer Center while participating in and producing events for other charitable causes that directly affect the Houston community. The success of Jamie's Hope events are credited largely to the sponsors who lend their names and financial support. By participating as a sponsor, your organization will benefit from extended exposure through media campaigns and promotional efforts. For a small donation, companies are able to enjoy excellent exposure to an important segment of your target audience while helping Jamie's Hope accelerate groundbreaking cancer treatments and beyond. For more information on being a sponsor of this non-profit foundation, please contact Amanda(at)ProActiveMediaGroup(dot)net.
Special thanks to our existing sponsors... Greenberg, Grant & Richards, EnVogue Events, Houston Modern Luxury Magazine, Southwest Infiniti, Del Frisco's Double Eagle Steak House, ProActive Media Group, TCP Capital Partners, The Spectrum Building, Thru Tubing Solutions, Adams & Reese, Amegy Bank, IW Marks, Brand New Media, Print Rite, Inc., MakeItComplete.com, Dream Bouquet, For Heaven's Cakes, Over the Top Linens, Richard Brown Orchestra, J&D Entertainment, Shutterbooth, GoPro2, Affordable Sound Productions, Darla Guyton Photography, Quy Tran Photography, Earch Photo, Brandy Stoesz Photography, DJU Productions, Aspen Signature Printing, Acme Party & Tent, Any Occasion Party Rentals.