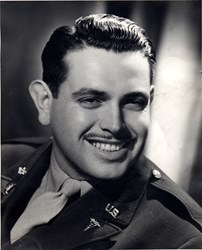 Hawley, PA (PRWEB) October 19, 2013
Noel Jacob Wiener of Newfoundland and Philadelphia, PA (and formerly of Pottstown, PA) will be honored for his wartime service in the United States Army at the Hawley (PA) Senior Center at 11:00 am on Wednesday, October 23rd. Dr. Wiener, 98, is the last surviving officer to serve on General Eisenhower's Supreme Headquarters Allied Expeditionary Forces (SHAEF) staff in the European Theater. He was attached to the 3118 Signal Service Group, which was responsible for all communications between SHAEF and American and British armies in the field.
Dr. Wiener served as a First Lieutenant at SHAEF headquarters in London and Versailles (Paris). He was on duty when the first report of the Allies' successful landing at Normandy was sent to General Eisenhower. One of "his boys" in the code room gave him the ticker tape reporting the landing to SHAEF; it remains a cherished family heirloom.
On D-Day Plus 6, he waded ashore at Omaha Beach, Normandy. Dr. Wiener was present at the schoolhouse in Rheims, Germany on May 7th, 1945, when the German High Command formally signed the instrument of unconditional surrender to the Allies. When he came out of the schoolhouse, General "Beetle" Smith turned to Wiener and said, "It's over." Dr. Wiener was honorably discharged from the service in 1946 with the permanent rank of captain.
Dr. Wiener, who, at 98 years old, is still quite alert and a good conversationalist, will be available for interview at or after the ceremony. Additional photos available, including of Dr. Wiener at the 60th (final) Reunion in 2006 of the 3118 Signal Service Group in Washington, DC.
What: A ceremony to honor Dr. Noel J. Wiener for his service in World War II
Where: Hawley Senior Center, 300 Park Place, VFW Building, Hawley, PA 18428 (570) 226-4209
When: Wednesday, October 23, 2013, 11:00 am
Media Contact: Daniel Grotta (570) 676-5500