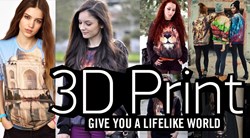 From today, OASAP will provide 20% off for all 3D printing collection products with the coupon code "3Dprint".
New York (PRWEB) October 21, 2013
Currently, 3D printing technology can not only be used in high-tech products, but also be introduced in the apparel industry. Recently, Oasap.com, one leading online retail store for fashion, launches a series of 3D printing pattern sweatshirts which attract the attention from worldwide fashionistas at once.
It is reported that the series of 3D printing sweatshirts are designed in vivid, colorful and exquisite beyond compare. They are the perfect combination of technology and fashion, and wonderful interpretation of tradition and modernity. The products are highly recommended from the consumers since they are ready sale on Oasap.com.
According to the introduction of Ms. Allen's, OASAP Chief Designer, this series of 3D printing pattern sweatshirts are designed to create a youthful, smart and attractive fashion image of women. They can not only be consistent with the requirements of individual style from young girls, and but also can withstand the slight cold of autumn. The products are redolent of autumn rhythm with different styles of printing patterns, among which, the pieces of Skull Graphic Sweatshirt and Galaxy Print Sweatshirt are especially favored by younger consumers.
Throughout the fashion industry, young consumers are responsive to fashion trending, but rather "picky"; and they have been forged into a rational and wise consumers as the rapid rise of online stores these years. Especially in the choice of clothing, they not only take price, style and tailoring into consideration, but also pay much more attention to the fabric than before; only when fully meet their conditions, then the products will attract their attention and win their orders. "As an online women fashion store, OASAP has no choices but to bring forth new ideas on the styles and the fabric, then it has the chance to become a leader of online retail stores for fashion", Ms. Allen said, "And it is incalculable for the allure of 3D printing pattern clothing among young fashion girls. ".
From today, OASAP will provide 20% off for all 3D printing collection products with the coupon code "3Dprint". And it is learned that Oasap.com is preparing for winter products and will release a lot of new styles of women coats, denim jackets and women winter outfits in this November; OASAP will still provide 20% off on all new arrivals.
About OASAP.COM
OASAP IS: A High-street Fashion Online store
OASAP Likes to: Deliver fashion & love!
OASAP is a global online store dedicated to high-street fashion by offering various kinds of women's apparel, bags, shoes, jewellery, accessories, beauty products, etc.
OASAP's mission is to make you close to the planet's most cutting-edge fashion, no matter where you are or what class or age group you are in. Pursuing fashion is the right of every woman.