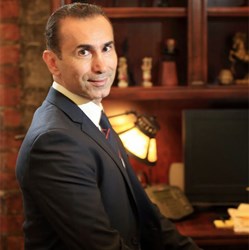 Rodney Mesriani, Esq., - Mesriani Law GroupTop Personal Injury Law Firm in Los Angeles, California
Los Angeles, CA (PRWEB) October 21, 2013
Top Los Angeles personal injury lawyer, Rodney Mesriani, Esq., would like to call the attention of California motorists to always be mindful of their surroundings while driving, in order to prevent auto accidents, especially when faced with approaching emergency vehicles that are sounding their sirens and displaying forward facing red-lights (Code 3).
In the most recent auto accident reported on Sunday, October 13, 2013, an LAPD cruiser collided with a BMW and a taxi in the 13000 block of Mindanao Way in Playa Del Rey. According to ABC 7, KABC-TV, Los Angeles, CA, "Three people, including two officers, were taken to the hospital after a Los Angeles Police Department cruiser was involved in a crash in Playa Del Rey Sunday night. The crash happened at 8:38 p.m. in the 13000 block of Mindanao Way. Police say officers were responding to a call of a woman with a knife, when their cruiser collided with a BMW and a taxi. Two police officers, along with one person in the BMW, were transported to an area hospital. There was no immediate word on their conditions.
Top Los Angeles personal injury law firm headed by Rodney Mesriani, Esq., opines that the auto accident could have been prevented had motorists recognize prevailing traffic conditions. According to Rancho Cordova Police Department, in the past five years, there have been nearly 200 traffic collisions involving Department vehicles responding Code 3. These traffic collisions have resulted in injuries to 41 citizens and 101 officers. (The Code 3 Vehicle - "Please Abide, Move Aside"). "In every auto accident, a lot of lives are changed forever, especially the auto accident victims who either suffered serious and permanent personal injuries, as well as those whose loved ones have been untimely taken from them as a result of wrongful death. Furthermore, in cases where the auto accident involves an emergency vehicle such as that of the LAPD cruiser that was responding to an impending tragedy, additional lives are affected due to the failure of the police authorities to timely arrive at the scene and prevent further disaster due to being involved in this avoidable auto accident", stressed Mr. Mesriani.
The foregoing considered, according to Mr. Mesriani of Mesriani Law Group, it is therefore very important to remember the following Code 3 Vehicle Laws under California Vehicle Code, in order to avoid further auto accidents and tragedies in the lives of motorists and other citizens affected when emergency vehicles are prevented from responding to emergency situations:

21806 (a) (1) CVC - When approached by an emergency vehicle, which is sounding a siren and displaying a forward facing red-light (Code 3), all vehicular traffic shall yield the right-of-way and drive to the right side of the roadway and stop until the emergency vehicle has passed;
21806 (a) (2) CVC - When approached by an emergency vehicle that is responding Code 3 in a carpool lane, all vehicles shall exit the lane immediately; and
21806 (c) CVC - When approached by an emergency vehicle that is responding Code 3, all pedestrians upon the roadway shall yield the right-of-way and proceed to the nearest curb or place of safety and remain there until the emergency vehicle has passed.
"In the end, regardless of whether you are approached by emergency vehicles responding to accidents, disasters or calamities or just faced with ordinary pedestrians or motorists on the roads, it is always best to constantly use caution, restraint and patience while driving along the streets of California. You might not know it yet, but the lives that could be saved might just be your own or your family's", adds Mr. Mesriani.
Mesriani Law Group's diligent Los Angeles, California personal injury lawyers have represented all victims of personal injury accidents even in cases of fatal auto accidents and even bike and bicycle accidents, motorcycle accidents, pedestrian accidents or truck accidents, bus accidents and train accidents for over two decades now. As of date, the aggressive auto accident attorneys in Mesriani Law Group have obtained millions in awards for all their auto accident clients in persistently pursuing all legal avenues to provide the highest compensation every personal injury victim deserves.
About Mesriani Law Group, P.C.
Mesriani Law Group, is a Los Angeles, California based personal injury law firm founded by Rodney Mesriani, Esq., which specializes in handling all types of injury related accidents such as auto accident, truck and bus accident, motorcycle accident, bike accident, hit and run, drunk driving accident, uninsured motorist claim, slip and fall, pedestrian injury, construction injury accidents, premise liability, dog bite attacks, brain injury, spine injury, burn injury, pool drowning accident, product liability, wrongful death claim and even boating accident and aviation accident claims.
Mesriani Law Group's top auto accident attorneys in California offer aggressive legal representation against the party at fault, whether the vehicle accident is private, commercial or government in nature, with an extensive grasp of vehicle accident laws in California, as well as years of experience in dealing with all types of car insurance coverage. The law firm's best Los Angeles personal injury lawyers are based in 5723 Melrose Ave., Suite 200, Los Angeles, CA 90038. To learn more about the firm, call 1.866.998.2545 for a free case evaluation or email them or take advantage of their free online case submission.