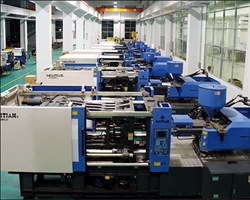 (PRWEB) October 19, 2013
Wuxi Glory Plastics, a well-known company in injection molded products, today announces that they are attending the 112th Canton Fair, offering special deals. In addition, the company is showcasing more than 39 new designs at the show.
Wuxi Glory Plastics is a leader in injection molding. Its premium quality products offered at amazingly affordable rates make the company stand out from the rest of the businesses operating in the same industry. The company is continually adopting new technologies and practices to stay competitive.
This year is the 112th session of the event, and Wuxi Glory Plastics are at the show until October 27, 2013. According to the CEO of Wuxi Glory Plastics, the 1st Canton Fair was held in 1957 and has been held bi-annually ever since with the support of China's Ministry of Commerce. The Canton Fair has been a key component in the global trade engine.
The CEO says, "We offer a wide range of products from all the major manufactures, helping people find the right products to support requirements for all activities. The fair is one of the most famous shows for many industries; it is an important trade show for our molding industry. This time, we bring many designs of plastic bottles, PVC bottles, handles, medical containers, cases, and more. All of them are available at wholesale prices. OEM orders are welcomed."
About Wuxi Glory Plastics:
Wuxi Glory Plastics was established in 1995 and is based in China. It specializes in providing various types of plastic injection molding and blow molding services. The company also offers customers discounted shipping for its products, as well as unmatched customer service.
For more details please visit: http://www.plastics-molding.com