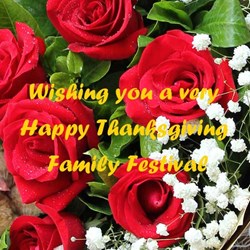 It's time to say 'Thank you', Happy Thanksgiving Day!
Guangzhou, Guangdong (PRWEB) October 31, 2013
In a bid to show their own appreciation and express their gratitude towards their new and returning customers, ChinaFlower214 is making an 8% discount available to all customers who complete their gift orders as part of the Thanksgiving Day celebrations.
"Our 8% autumn discount is our way of saying 'Thank You' to our new and loyal customers and giving a little something back." - ChinaFlower214.
The special promotion is not only confined to Thanksgiving Day itself however, running from October 31st right up to November 28th, 2013, as part of the autumn discount to say "Thank You" to their many clients from all over the world.
ChinaFlower214 is China's leading and most professional florist network, priding themselves in providing the fastest floral delivery services which has them delivering their wide range of selected flowers, cakes and gifts within a time frame of 3 hours max.
New and returning customers can take full advantage of this Thanksgiving Day Festival Event special offer, by typing in the discount code "2013TY" with every order completed over the duration of the promotion.
Offering a top-quality and professional regular delivery service, that is open 365 days a year, ChinaFlower214's customers have the unique opportunity to stretch their dollars further and perhaps explore some bouquets, cakes and gifts that would otherwise be just out of their budget range. Perhaps the best-selling Truth Long Time, 22 Red Roses and Eternal Love selections could be complemented with Temptation, Strong Feelings, Sweet Love or Courage of Love cake ranges.
A plethora of brand new products are also available, in the form of the beautiful and unmistakably expressive You & Me bouquet, 19 Red Roses, 33 Roses or indeed the Sincere Wishes bouquet. The looming 8% discount could perhaps also put a gift such as the Two Dozen Red Roses within reach, a great way to go the whole nine yards in making one's feelings perfectly clear.
Shifting the focus away from the specific Thanksgiving special for a moment, ChinaFlower214 is as elaborate as it gets by way of floral and gift shop delivery services, with their same-day, 3 hour delivery service covering the entire mainland China regions, comprised out of Shanghai, Guangzhou, Tianjin, Beijing, Shenzhen and Nanning, so there is no excuse for anyone, anywhere in the world, not to show their affection, love and appreciation for any loved-ones that may be based in China.
The gift center collection spreads beyond floral bouquets, cakes and chocolates though, with "For Him" selections available as well, in addition to fruit and cute Teddy Bears.
While the Thanksgiving Day Festival discount will go a long way in saving anyone money, wishing to send special gifts to loved-ones in China, a wide range of special gift packages are available all-year round, with ChinaFlower214 leading the market by way of guaranteed satisfaction and the peace of mind of being able to order with 100% confidence.
Anyone wishing to take advantage of the 8% autumn discount should remember to submit the discount code "2013TY" with every order.
About:
ChinaFlowers214 is the leading flower-delivery service, based in China, providing flowers and gifts for every occasion. Currently delivering within mainland China, ChinaFlower214 allows clients to express their love and appreciation, through a selection of custom-made gifts, no matter where in the world they make their purchase from.