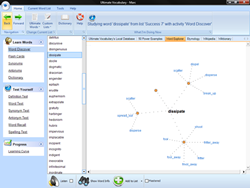 ...an improved vocabulary is a matter of systematic learning and practicing.
New York City, NY (PRWEB) October 22, 2013
The Ultimate Vocabulary™ editor shared an insightful interview with Amanda Davis, speech therapist and director of Words First. In her interview, Ms. Davis makes clear that language and literature shouldn't be taught separately but rather be merged into a single approach, something Words First already implements to help struggling students follow through with the rest of their class.
While speech is something that comes easily to a child as their brain is pre-wired for speech, reading is a more challenging task, since the child needs to make conscious efforts to connect the dots between written and spoken language. This is an issue that is of significant concern to the development teams at eReflect, parent company of Ultimate Vocabulary™. The interview yielded significant insights, the company representative pointed out; the approach by Word First lends itself to public school implementation, as it's more of a toolkit rather than a labor-intensive methodology. Aware of the overloaded schedules of educators, the Words First approach enriches the existing school curriculum with targeted activities and games so that those with learning difficulties can efficiently address their learning weaknesses and improve their language use substantially.
Amanda Davis makes it clear that an improved vocabulary is a matter of systematic learning and practicing. According to the information in Ultimate Vocabulary™'s blog post, the suggested learning approach by Ms. Davis revolves around a set of core words on which the learner receives explicit teaching so that they can grasp the full scope of all aspects of a word, including morphological, phonological, semantic, and syntactic information.
Even though children focus on learning how words function and interact at many linguistic levels, they in fact learn to transfer this knowledge and implement it in their language learning more generally, eReflect pointed out. One of the most important aspects of this approach by Words First is that it can be seamlessly and effortlessly implemented in existing curriculums with little effort on behalf of the educator. As the eReflect editor noted, this allows schools and teachers to pay more attention to the struggling students, without compromising the quality of education that all the students receive.
For more information on how you can benefit from Ultimate Vocabulary, please visit its official website, http://www.ultimatevocabulary.com.
About Ultimate Vocabulary™
Ultimate Vocabulary provides a proven and powerful platform, built to improve anyone's vocabulary.
The interactive self-improvement system provides more learning tools than any other program on the market, as well as more information on words.
The Ultimate Vocabulary software provides each and every user with a personal computer tutor. Providing a step-by-step guide to learning a powerful vocabulary, Ultimate Vocabulary is the learning tool everyone can benefit from.
Of course, the software is also backed by eReflect's iron-clad money back guarantee.