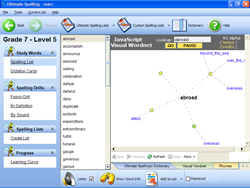 Learning through play encourages a more positive and open approach by the student.
New York City, NY (PRWEB) October 23, 2013
Spelling improvement is about personalized practice and fun, eReflect announced after a discussion with the manager of armoredpenguin.com, a language game generator. While spelling activities help children learn to spell, what ultimately makes spelling information become spelling knowledge is the student's systematic exposure and engagement with entertaining spelling games.
The Ultimate Spelling™ blog editor recently interviewed Dave Regan in an attempt to pin down the best approaches to improving children's spelling skills. Spelling efficiency comes with consistent practice, but it's important to have the right tools to transform this practice into fun, rather than making it a boring task that children dread, eReflect reported. This is what Dave Regan sought to prevent, as the blog explains, and that is why he suggests using his unique spelling improvement approach.
As the interview made clear, children are keener to engage with learning when it is disguised as games. Learning through play encourages a more positive and open approach by the student. Inevitably, this results in better spelling retention and a happier student, a student who feels learning to spell is fun and not boring.
Dave Regan told the Ultimate Spelling™ editor that the secret to achieving spelling efficiency fast is to offer students personalized spelling games. Instead of using ready-made, canned activities that use generic word lists, both educators and students can create their own word games with words they're currently learning or have already learned but need to work on remembering. By working with this level of individualization, the learner is more likely to practice more eagerly and for longer periods of time, eReflect noted.
Teachers can use websites like Regan's to create on-demand word games. Crosswords, puzzles, word-definition matching, word scramble and word search are a few games students can practice with when studying for spelling tests.
What sets Dave Regan's approach apart is that the user is in full control of how difficult, lengthy and challenging each activity will be. This results in having engaging, tailor-made activities at any given moment, something that contributes to enhanced spelling learning and retention.
For more information about how Ultimate Spelling software can improve spelling performance for you and your family, please visit the official website at http://www.ultimatespelling.com.
About Ultimate Spelling™
Ultimate Spelling provides a modern and easy to use spelling software that has been designed with one goal in mind – making children want to learn.
It is a fast and easy way to master even the most complicated spelling, without the need to write long lists or complete boring tests.
In fact, Ultimate Spelling provides more than just spelling help. It is a complete educational resource that boosts all level of a child's literacy.
Containing a personal computer tutor, Ultimate Spelling is the most realistic step-by-step guide to flawless spelling ability.