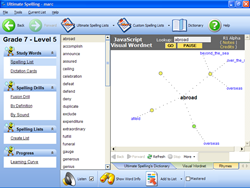 New York City, NY (PRWEB) October 26, 2013
Ultimate Spelling™ designer, eReflect, announced today through its representative that online and print magazines and newspapers are still using a centuries-old practice of posting announcements that inform readers of any misspellings and misleading information previously published. Misspellings, either through improper word spelling knowledge or because of typographical errors, are still one of the most frequently mentioned issue in such announcements, eReflect observed.
Such misspellings are often the result of frantic authors trying to get their story online fast and under deadline. But apart from the media coverage urgency, this issue manifest another underlying feature of spelling, eReflect noted. As the representative explained, misspellings in prestigious newspapers and magazines reflect a wider but often overlooked reality; that spelling skills are never mastered in their entirety. People ought to invest in spelling improvement throughout their lives to continue using the written language properly.
Especially in this era of texting and abbreviated language on social media, it's crucial that people of all ages, especially those professionally engaged with the written language, constantly strive towards improving their spelling skills. The eReflect representative said that parents can set a good example for their children by practicing their spelling once in a while. This will help younger spellers realize the centrality of spelling accuracy throughout a person's life. It's more efficient to let a child know how important spelling is through action rather than through orders. eReflect recommends that instead of asking children to practice their spelling alone, parents can offer to practice spelling together using fun, interactive spelling games and activities.
The spelling correction announcements issued by national papers and magazines illustrate that everyone should take some time to practice spelling skills, especially for words that are commonly misspelled, including the homophones their/they're/there, and words such as apparent, believe, maintenance, separate and misspell. While misspelling these words doesn't constitute a crime, they can be avoided, especially if the writer is paying attention. Potentially embarrassing mistakes that get published on a national scale can reflect badly on both writer and magazine, but this is something that can a bit of spelling practice can prevent, eReflect concluded.
For more information about how Ultimate Spelling software can improve spelling performance for you and your family, please visit the official website at http://www.ultimatespelling.com.
About Ultimate Spelling™
Ultimate Spelling provides a modern and easy to use spelling software that has been designed with one goal in mind – making children want to learn.
It is a fast and easy way to master even the most complicated spelling, without the need to write long lists or complete boring tests.
In fact, Ultimate Spelling provides more than just spelling help. It is a complete educational resource that boosts all level of a child's literacy.
Containing a personal computer tutor, Ultimate Spelling is the most realistic step-by-step guide to flawless spelling ability.