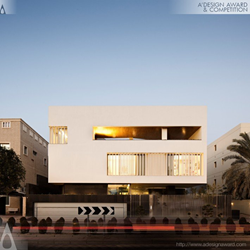 Como, Italy (PRWEB) October 20, 2013
A' Design Award and Competitions are proud to tell that the work Secret House by Agi Architects has been awarded with the prestigious Silver A' Design Award in Architecture, Building and Structure Design Category within a great number of works.
More on Secret House
The Secret House is built in a site constricted by its limitations of having only one street facing facade and close proximity to the neighbors. The buildings' exterior is designed in a contrary to its interior; where the facade is subtle and designed to blend in with its surroundings evoking minimal attention, whilst the focus is on the interior, completely stripping down private barriers and revealing the inner confines of the house. This attenuated yet expansive nature of the house is a reflection of the clients' character.
To learn more and download high-resolution photos, please visit: http://www.adesignaward.com/design.php?ID=28267.
Design Team for Secret House
Secret House was designed by Nasser Abulhasan, Joaquín Pérez-Goicoechea, Bruno Gomes, Raquel Soeiro, Sharifa Alshalfan, Hanan Al Kouh, Daniel Munoz, Jose Angel del Campo, Babu Abraham, Waleed Fawzy El Demrdash, Abdulhafiz Bahi El Din Mohammed, Robert Varghese and Naseeba Shaji.
The Silver A' Design Award
The Silver A' Design Award is a prestigious award given to top 5% percentile designs that has attained an exemplary level of excellence in design. The designs are judged by a panel of three different jury which is composed of Academic, Professional and Focus Group Members. The designs are evaluated with score normalization to remove any biases and are voted on aspects such as functionality, ergonomics, engineering, presentation, innovation, usability, fun details, technology, and any other specific points that could be considered, each of these points are further weighted for different jury groups.
About A' Design Award and Competitions
A' Design Award and Competitions, aims to highlight the excellent qualifications of best designs, design concepts and design oriented products. A' Design Award and Competitions are organized and awarded annually and internationally in multiple categories to reach a wide, design-oriented audience. Learn more at: http://www.whatisadesignaward.com.