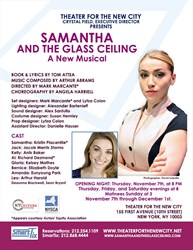 You can have your bachelor's degree, a masters or even a ph.D. You can be at your desk way before eight and slave away until it's so late the cleaning staff has come and gone, but we all know we're dealing with a man-made wonder, called a glass ceiling.
New York, NY (PRWEB) October 21, 2013
Theater for the New City, a Pulitzer Prize winning cultural center in Manhattan's lower East Side, Crystal Field, Executive Director, presents the world premiere of the new musical Samantha and the Glass Ceiling as a 4-week showcase presentation approved by Actors' Equity Association. Tickets are just $10.
The musical is about the struggle of a young lingerie designer to be accepted and promoted for her talent in a fashion company where men hold all the top positions.
Written by Tom Attea, the playwright and lyricist who encouraged Marilyn Loden, the woman who invented the phrase "the glass ceiling," to write her first book, Feminine Leadership, Or How to Succeed in Business without Being One of the Boys, Samantha and the Glass Ceiling tells the story of a talented career woman, trying to hide her beauty from her male coworkers, especially her boss, a man who never met a woman he didn't flirt with, until she decides it's time to show up at work as a gorgeous, complete woman.
Samantha and the Glass Ceiling is the 10th collaboration of playwright and lyricist Tom Attea, composer Arthur Abrams, and director Mark Marcante, as well as their fourth collaboration with choreographer Angela Harriell.
Performances of Samantha and the Glass Ceiling are currently scheduled for a limited run of 4 weeks, from Thursday, November 7th, through Sunday, December 1st; Thursdays, Fridays, and Saturdays at 8 p.m. and Sundays at 3 p.m.
All tickets are priced at just $10 each.
Tickets to Samantha and the Glass Ceiling are available at the box office by calling 212.254.1109, online at http://www.TheaterfortheNewCity.net, or at SmartTix.
Theater for the New City is located at 155 First Avenue (at 10th Street) in Manhattan.
Set design is by Mark Marcante* and Lytza Colon, costume design is by Susan Hemley, prop design is by Lytza Colon, sound design is by Alex Santullo, lighting design is by Alexander Bartenieff and the Assistant Director is Danielle Hauser.
The cast of Samantha and the Glass Ceiling features Kristin Piacentile*, Jacob Merrik Storms, Anik Baker, Richard Dezmond*, Kelsey Mathes, Elizabeth Doyle, Eunyoung Park, Arthur Harold, Deaunna Blackwell and Sean Bryant.
Samantha and the Glass Ceiling is the 11th show Tom Attea, the playwright and lyricist, has written that has been produced in the publicly funded off-Broadway theater. He received a Theater for the New City/Jerome Foundation emerging playwright grant and is a member of The Dramatists Guild. He is an award-winning copywriter, who wrote the original advertising that introduced Lifetime Television for Women. The campaign featured his headline "There's nothing like a woman's Lifetime."
Arthur Abrams, Composer, began his collaboration with Tom Attea in 1982 at the Actors Studio, when they were both working with Charles Friedman on the revue Brief Chronicles of the Time. Mr. Friedman, noted director of Pins and Needles and Sing Out The News, was also their mentor. Mr. Abrams and Mr. Attea continued their collaboration at Theater for the New City. His awards include a DAAD music fellowship to Mannheim, Germany, a scholarship to the Orff Institute at the Mozarteum in Salzburg, Austria, and a "Meet the Composer" grant for the score of The Golden Bear. He is a member of the Dramatists Guild.
Director Mark Marcante, a graduate of Kutztown University, has studied and performed Commedia Del Arte with Alessandro Bressanello and Michael Conenna from the T.A.G. Theatre of Venice, Italy. Mr. Marcante has worked and toured with The People's Theater Company, Theater East and The Guthsville Playhouse. Mr. Marcante was the theatrical and technical consultant for the Arts Connection. Other shows Mr. Marcante has directed include British Music Hall and One Director Against His Cast, written by Crystal Field, which premiered in Italy.
Choreographer Angela Harriell has worked with the Attea, Abrams, and Marcante on three previous musicals. She is the director and choreographer of the popular Nutcracker: Rated R, as well as the founder and choreographer of the cabaret dance troupe, The Love Show. Cointreau and Vogue magazine have commissioned pieces from her. Her work has twice been selected to be presented at special galas at the National Arts Club. Angela also taught dance at Lincoln Center for Midsummer Night's Swing.
Photo credits: Photographer: David Isabelle. Subject: Kristin Piacentile*.
*Appears Courtesy of Actors Equity Association.