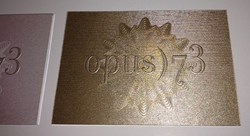 Dangerfield praises Rubino and company for a design that captured the imagination of the business and entertainment elite.
Santa Monica, CA (PRWEB) October 23, 2013
The decision to expand the IMAGE: Global Vision brand to Beijing and beyond has brought a prestigious American prize to founder Regina Rubino. In December she will be featured in the PRINT Magazine 2013 Regional Design Award Annual for excellence in communication design.
Also named are project art director Robert Louey (Rubino's creative partner for nearly 30 years), designers Christy Thrasher, Danielle Vega, and production coordinator Ningning Lu. They created a one-of-a-kind business card for Joan Dangerfield, President and CEO of Xis International, Dangerfield Entertainment and Paper Clip Productions, and co-founder of The Opus 73 Group, a privately held consulting firm providing research, strategic planning and investment promotion services to the Chinese government.
"It is always a thrill to be singled out among gifted peers in a national design competition. We thank PRINT magazine for recognizing our collaborative work," says Rubino, who last year established an IMAGE: Global Vision office in Beijing.
Dangerfield praises Rubino and company for a design that captured the imagination of the business and entertainment elite. IMAGE: Global Vision also created award-winning brand identity designs for Dangerfield projects, such as Jungle Roses and Fleurs du Jour.
"I told Regina that I wanted something special and she didn't disappoint because she never does. The first time I actually held the card in my hand, it took my breath away. The card was alive. It had text and information, yes, but it also had texture and elements that seemed to pulsate with possibilities," she says, adding, The Opus 73 Group takes a long-term approach to business that emphasizes consumer attraction and retention.
PRINT Magazine sponsored the annual competition, the most comprehensive survey of graphic design in the United States, recognizing outstanding creative work produced by individuals and groups in 2012. The honorees will be featured in the December issue and on the magazine's website.
Don Burdge, president and owner of BurdgeCooper, the "making print matter" firm in Los Angeles for which IMAGE: Global Vision also designed the logo and identity system, says Rubino and her fellow artists deserve to be recognized because they continue to push boundaries.
"With this project Regina has really pushed the boundaries of printing techniques. The type of paper she chose and the special method for gilding the edges of the card challenged us to step up our level of quality and innovation. We improved our skill set because of her unique vision and wishes," he said.
Burdge added that Rubino understands that even a business card must be both impactful and memorable, and not only in the visual sense: It must also leave a tactile impression that stirs the senses.
The IMAGE: Global Vision creation achieves distinctiveness using a combination of unusual elements. The dimensions are slightly larger than the average American business card: standard European business card format. The front and back sides adhere to a cardboard core that adds thickness and weight for impressive presence and all four edges are then gilded with silver.
Also, a total of four different reflective foil stampings as well as multi-level embossing methods were employed for texture. Although an engraved ink approach was initially chosen for the information side of the card, Rubino changed to an off-set technique so that the copy was free of what Burdge called a "halo" effect.
"The card has an incredible "hand" -- how the card feels when you receive and hold it---, and that's so important because for us the measure of success is the impact and emotion of the design," says Rubino. "We went through dozens of rounds of test samples and revisions, with different types and colors of paper and foil. And the client was very involved in the details. It was a true collaborative effort."
Rubino's work reaches around the globe, with contributions in Asia, where for 20 years she and Louey have designed for clients such as Hyatt Hotels Corporation and its new Andaz brand in Shanghai and Tokyo.
Rubino and Louey also participated in the design of Andaz Wall Street, which was included in the Condé Nast Gold list for 2012. Condé Nast Traveler's Gold List surveys 8 million people to determine 500 properties worthy of inclusion.
Regina Rubino / IMAGE: Global Vision, Robert Louey Design/Pagenova and Louey/Rubino Design Group have built an international reputation by blending emotionally stunning imagery with simple yet powerful language. Through the years, Rubino and Louey have won more than 300 international communication arts awards while offering Fortune 500 companies and other major entities assistance in creating identity systems that solve complex communications challenges.
For more information about Regina Rubino, Robert Louey, http://www.imageglobalvision.com, http://www.robertloueydesign.com, http://www.loueyrubino.com or email reginarubino(at)imageglobalvision(dot)com, call +1(310) 998-8898 or write to 2525 Main St., Santa Monica, CA., 90405, USA