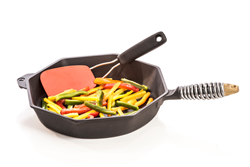 Portland, OR (PRWEB) October 21, 2013
FINEX ™ has launched a 12" cast iron skillet on Kickstarter starting on October 16, 2013 with an overwhelming reception, reaching 50 percent of funding goal within the first three days! This is FINEX's newest product, and is a long-overdue redesign of a true American classic. This skillet sports an octagonal shape, a quick-cooling wire-spring handle, and a polished CNC-machined interior. This beautiful cookware is the first cookware that is fully designed and manufactured in the Pacific Northwest, and brings back the premium cast iron skillet that has been the foundation of great stove work for centuries.
Developed by Mike Whitehead, in Portland, Oregon, this skillet is a result of his extensive technical experience and passion for great cooking. This skillet is the first offering of a planned family of products to be released over the coming years bringing back all the taste and benefits inherent with great cast iron cookware combined with needed upgrades and redesigns.
"I love cast iron skillets but the well-finished ones are commanding an outrageous premium and only available in second-hand stores, and they still have the dated designs and integrated handles that are too hot, too flat, and too small to use effectively," said Mike Whitehead, founder of FINEX.
This FINEX skillet provides cast iron's honored cooking superiority and long lasting nature while avoiding the concerns of over toxicity of modern cookware. Furthermore, the FINEX 12" Cast Iron Skillet's octagonal shape lets you stand the skillet on its side (like for drying it after washing) and it won't roll around like those 'other' skillets. Plus, it gives six directions that you can pour from, because each 'corner' becomes a pour-spout - it's a little bit like magic. Finally, Those flat sides also allow a spatula to slide in easily for getting under pancakes, fried eggs, etc.
The spring handle harks back to the classic woodstove handles that kept the cooks from burning their hands when stoking the wood-fired cook stove. The spring handle has lots of air space so it cools quickly after use in the over or on a gas-burner stove-top. The spring design is both tried-and-true and classically brilliant.
This fully US-designed and manufactured cookware provides the discriminating kitchen owner with the practicality of a cast iron skillet along with a great new design.
FINEX is raising funds for their 12" cast iron skillet through KickStarter campaign with special pre-release pricing. The product is targeted for wider release Q1, 2014 for $195 (MSRP).
For more information, visit http://www.FINEXUSA.com.
High-resolution images available at http://www.FINEXUSA.com/press-resources/.