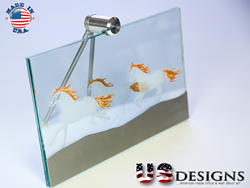 US Designs is part of the solution to America's economic problems.
Tucson AZ (PRWEB) October 22, 2013
US Designs, out of Arizona, launches its Kickstarter project today. The Kickstarter project includes 3 new product lines all using the US Designs standards of manufacturing. These product lines include two photo frame product lines and a wall décor product line featuring a modern, contemporary look.
The Kickstarter project features two unique photo frame designs that incorporate sleek industrial-style frames:

a self-standing version
and a wall-mounted version.
The standing photo frame design is US Designs' entry level product designed to give everyone the opportunity to help support our efforts. The wall-mounted photo frame design offers a unique way to display photos allowing them to float ½ inch away from the wall using the custom designed mount. Both of these photo frame designs allow for the display of pictures of loved ones. For this reason, many current customers are planning to give US Design frames as Christmas presents.
The wall décor product line featured on the project has 20 unique different designs for which to choose from. Upon completion of the Kickstarter project, this product line will expand rapidly featuring ten to twenty new designs per week. As in the photograph product line, the aluminum materials used are composed of 6061 aircraft grade aluminum. Both mounts are custom designed by US Designs with the mount on the wall décor being a universal mounting system. Included in each pledge for a wall décor piece is a stand to allow the display of décor on a horizontal surface. In the future, different styles of stands and mounting brackets will be available to allow the display of US Designs products in a unique personalized way.
After Kickstarter
Following a successfully funded Kickstarter project, US Designs plans to develop and expand several product lines. The end goal for US Designs is to become a home and office décor company featuring modern contemporary products that are 100 percent American made. The primary goal of US Designs will always be to be a positive contributor to the local and national community rather than a company built with profit being the only concern.
About US Designs
US Designs is a company that has been built from the ground up to be a solution to America's economic problems. This solution comes in the form of an American-made home and office décor company. This starts with the US Designs standards of manufacturing that states all products created within US Designs must be made using American material, machinery, labor, and components. These standards are designed to keep American dollars circulating within the American economy. US Designs will also be a positive contributor to the local Arizona and national community.
Kickstarter Project: http://www.kickstarter.com/projects/757942442/american-made-home-and-office-wall-decor-designs
Facebook: facebook.com/pages/US-Designs/164547993624691
Twitter: twitter.com/USDesigns1
Google+: plus.google.com/117005779304271549274/posts