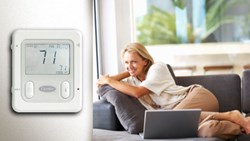 Cedar Falls, IA (PRWEB) October 24, 2013
Homeowners looking for the most efficient way to heat their home need to consider several factors, advises Dalton Plumbing, Heating & Cooling, Inc., a company that provides heating service in Waterloo IA. A variety of choices may make the task seem daunting, but taking into consideration the following will definitely help with the decision making:
Where is the home located? The climate, availability of fuels, and cost of energy at a home's location will quickly eliminate certain heating choices. Colder climates will use more heat throughout the year, so a more durable system would be needed. Natural gas may not be available in the area, so a gas furnace would be out of the question. And electricity may be more expensive in certain parts of the country than others, which may make an electric furnace too costly.
How big is the home? The total square footage of the area to heat (whether it be a room or the whole house) and the number of floors to heat will quickly determine the most capable systems, as some work more efficiently in larger homes than in a smaller ones.
How old is the home? Choices in heating systems may vary depending on the age of the home. A newly-built home can usually accommodate the latest, most efficient systems, but upgrading or replacing an older system in an existing home requires several other considerations.
Whatever the factors, Dalton advises, it is always best to seek the assistance of trained and certified heating professionals. For more information on residential air-quality services, contact Dalton Plumbing, Heating & Cooling, Inc. at 319-327-5059 or visit http://www.daltonphc.com.
About Dalton Plumbing, Heating, & Cooling, Inc.
Serving Iowa's Cedar Valley since 1959, Dalton Plumbing, Heating, & Cooling, Inc. provides 24-hour emergency service on all makes and models of residential heating, ventilating, and air-conditioning systems. Employing N.A.T.E. Certified technicians, Dalton assists homeowners with the selection, installation and financing of the best air-quality systems for their homes.