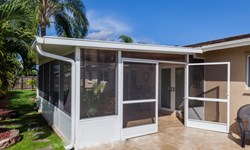 Getting new living space that works for your home, your family and your lifestyle means making some monster decisions.
MIAMI, FL (PRWEB) October 21, 2013
Making the wrong design choices when expanding a home can come back to haunt any homeowner, warns Chris Noe, president of Venetian Builders, Inc., Miami.
"Getting new living space that works for your home, your family and your lifestyle means making some monster decisions," Noe says. "But it's pretty simple if you properly address the issues. Without a doubt, the devil's in the details."
Venetian designs and builds custom aluminum sunrooms, patio covers and roofs, and screened pool enclosures in West Palm Beach, Fort Lauderdale, Hollywood, Miami, the Keys and all other South Florida communities.
Noe offers these tips for homeowners considering any such expansion:
Know your budget: "Be comfortable with the cost," Noe says. "Your budget will determine how much space you can get and maybe what kind of space – a fully enclosed room, a screened patio or a patio roof, for instance. It also will determine amenities. We have projects that let homeowners improve in steps to ease budget concerns."
Identify shortcomings: "List what convinced you that more space is needed," Noe says. "Maybe it's clutter, crowding during parties or family gatherings, or squabbles over use of the living room or a shared bedroom. Figuring out what you don't want helps you decide what you need."
Measure lifestyle needs: "If spending time outdoors is key, you may want to screen a pool or turn a patio into an outdoor room," Noe says. "If you love to entertain year-round or need homework and relaxation space, a solarium or patio enclosure that can serve as a family room might be the ticket. Suit your needs."
Consider aesthetics: "Find a company that can design and build to your taste," Noe says. "If it's important to match your house proportions and roofing materials, or line your sunroom with windows that complement those already on your home, make sure your builder can deliver."
Ensure comfort: "Space that's uncomfortable will be space that's unused," Noe warns. "Make sure your heating and ventilation system can handle an extra room, especially one with lots of glass. If it can't, a wall-mounted split-system air conditioner and heat pump will provide climate control in the sunroom efficiently and economically. And it's quiet enough that you'll still hear things going bump in the night."
Establish priorities: "Think about the factors you listed," Noe says. "If cutting clutter is primary, then you probably want to include storage space and shelving in your new room. If you want to watch movies and use computers, order smaller windows for less light and more electrical outlets; if reading is your goal, get bigger windows or giant skylights. Your designer should be able to help you resolve issues with any priority you set."
Venetian Builders, Inc., custom-designs every aluminum structure it installs, no matter how big or small. Its free estimates are written and detailed. No-cost at-home consultations include curbside access to the Venetian mobile showroom.
For more information, call 866-596-2427.