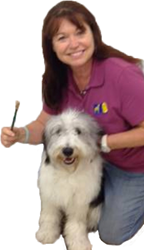 The "magic" is the transformation that happens with no hassle to the owner.
Escondido, CA (PRWEB) October 23, 2013
"The Magic Wand is our name for hassle-free and hands-off dog training created to benefit busy dog owners," says DiLoreto, who has heard owners' yearning for such a miracle for years.
"We give them a magic wand in that all they do is drop off their dog, and we change the dog's behavior into just what they were looking for – all while the client is at work, home, vacationing, anywhere but in the back yard doing dog training."
The "magic" is the transformation that happens with no hassle to the owner. The "wand" is DiLoreto's expertise and more than 20 years' experience. She graduated from the Animal Behavior College and earned certifications from the Certification Council for Professional and Do More with Your Dog! that focuses on teaching tricks. She authored Gonna Buy Me a Dog and The Potty Training Answer Book.
The program, which corrects issues in obedience, reactive behavior, aggression, snake avoidance, fear and phobias, and leash pulling, can teach tricks and more.
K9 Dog Park, owned by DiLoreto and her husband David, offers a range of dog-training classes, Therapy Dog, Service Dog, Behavior Adjustment Training, Problem Solving, Agility, Rally, AKC-STAR Puppy, AKC-Canine Good Citizen, Snake Avoidance, Trick and others in its indoor facility.
The couple pioneered snake avoidance training without the use of shock-collars, Behavior Adjustment Training for reactive dogs, and "La Paws" training to help create a safe environment for infants, toddlers and the family dog before developing The Magic Wand.
"I can't tell you how many times people have given me such a puzzled look when I talk to them about how to train their dog," DiLoreto says. "They say things like 'That sounds like a lot of work' or 'I don't think I can do that.' Well now, busy dog owners don't have to do that because we give them The Magic Wand."