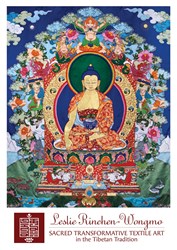 The "specialties" of these divine images are the personal qualities we all want to cultivate.
Oxnard, CA (PRWEB) October 29, 2013
The Threads of Awakening website has been redesigned to focus on the qualities Tibetan sacred artwork seeks to represent and inspire.
The "Portfolio" has been renamed "Artwork." And the thangkas have been grouped into categories by subject and specialty. The "specialties" of these divine images are the personal qualities we all want to cultivate.
There's "Boundless Love & Compassion" with silk thangkas of the Lord of Love, Chenrezig, and protective Mother Tara.
Manjushri, embodiment of enlightened wisdom, sits with Saraswati, goddess of learning, poetry, music, and art in the "Wisdom, Learning & Discernment" category.
"Health and Longevity" is sure to be a popular category, carrying the healing energy of lapis blue Medicine Buddha alongside the peaceful life-giving gaze of White Tara.
There's also an important group of thangkas representing power, protection and the overcoming of obstacles.
Finally, there's a page just for thangkas of Buddha Shakyamuni and another for the Taras.
Even Lotus Flowers and Himalayan Portraits each have dedicated spaces.
In addition, fine art (giclee) prints are now easy to order directly from each artwork's sidebar.
Up to now, prints of Leslie Rinchen-Wongmo's fabric thangkas had only been available through FineArtAmerica.com a print-on-demand art reproduction company.
While the print quality was superb, the buying process was cumbersome. An endless array of choices -- so many varieties of paper and canvas -- left inexperienced potential buyers dismayed.
Visitors often began their print shopping process with enthusiasm, only to leave the site an hour later confused and uncertain, vowing to come back later to decide. Typically, they never returned. The decision process was not easier the next day, since buyers had no way to compare the multitude of choices.
Leslie Rinchen-Wongmo saw a need for clarity and simplicity in the sacred print buying process.
By selecting just one type of high-quality paper and offering it in just three sizes,
she has made it easier for sacred art lovers to make their purchases. Now, prospective buyers can focus on the image that resonates with them, the spiritual qualities they want to inspire, and the colors they love.
Beyond that, the only choice is small, medium, or large. It's that simple!
While no substitute for an original textile work, a giclee print of a silk thangka is an inspiring addition to any sacred space or home. And they make wonderful Christmas gifts for Buddha-inspired friends.
About Leslie Rinchen-Wongmo:
Leslie Rinchen-Wongmo is an American master of Tibetan appliqué and an internationally known teacher of transformative sacred art. The only westerner trained traditionally in India, she is featured in the documentary, "Creating Buddhas: the Making and Meaning of Fabric Thangkas" and is passionate about the preservation and evolution of this cultural tradition.
Through the Stitching Buddhas Virtual Apprentice Program, she teaches silk thangka making internationally -- giving creative, spiritually oriented women a meaningful way to integrate their paths.
His Holiness the Dalai Lama gave his blessings to Rinchen-Wongmo's work and encouraged her to use her sacred art skills to inspire people across religions and cultures.
Contact Information:
Leslie Rinchen-Wongmo,
Artist & Teacher at Threads of Awakening,
Buddhist Textile Art for Sacred Spaces
805-626-8272
info (at) threadsofawakening (dot) com
http://threadsofawakening.com