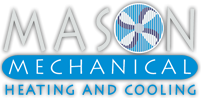 Tempe, AZ (PRWEB) October 24, 2013
Winter is on its way. And, although central Arizona's winters aren't as extreme as most of the country, it does get cold enough in the Sonoran Desert to have to fire-up the home's heating system. However, homeowners seeking furnace repair in Tempe may need to replace the furnace instead, advises Valley company Mason Mechanical, if these conditions exist:

The furnace is more than 15 years old. The National Association of Home Builders has published a study on the life expectancy of home components, including furnaces and heat pumps. On average, a gas or oil-fired furnace lasts about 15 to 20 years, and a heat pump lasts about 16 years. If your home's furnace or heat pump is more than 15 years old, chances are you should put it on your replacement list now before it breaks so you don't get caught in the cold.
Monthly energy bills are higher than normal. If your monthly heating bills seem higher than usual, your furnace may not be working properly. An impaired furnace uses more energy to reach and maintain a steady, comfortable temperature, thus increasing your bill.
Room temperatures are inconsistent. If one room in your home seems significantly warmer or colder than another, the furnace may no longer be capable of heating enough air to reach the entire house.
Carbon monoxide detectors going off. An old or impaired furnace produces carbon monoxide at a higher rate, increasing the risk of poisoning. The higher levels will set-off the detectors, so don't ignore the warning.
Other factors such as clogged filters, dirty ductwork, and incompatible thermostats may also cause these conditions, so it is best to have a trained HVAC technician inspect your overall heating system, advises Mason Mechanical. For more information on heating services, contact Mason Mechanical at 602-680-5086 or visit http://www.masonmechanical.com.
About Mason Mechanical
Started in 1993, Mason Mechanical provides reliable heating and cooling services to commercial and residential customers in Mesa and the surrounding areas. As a Trane Comfort Specialist with NATE and Building Performance Institute (BPI) certified service technicians, Mason Mechanical offers a range of services including maintenance, repair, indoor air quality, and duct sealing. Mason Mechanical Heating and Cooling also proudly installs high quality Trane systems with financing and rebates available to those who qualify.