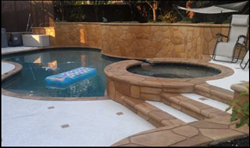 San Antonio, Texas (PRWEB) October 23, 2013
SunStamp, Sundek's customizable stamped concrete overlay was used to provide a custom texture and color with the use of stains and acrylic finish coats in a recent residential pool deck project completed in San Antonio, Texas.
The residential pool deck and spa was a 2365 square foot project featuring an exposed aggregate deck, painted brick coping and a brick retaining wall. Sundek's SunStamp was used to create a monochromatic texture with diamond inlays on the pool deck, and SunStamp flagstone was also utilized as an architectural feature of the pool deck.
SunStain water-based stain produced a natural color for the rock formation on the walls, steps and spa area.
Sundek systems are used nationwide to produce beautiful decorative concrete surfaces for both interior and exterior use. Contact a local Sundek authorized dealer to learn more.