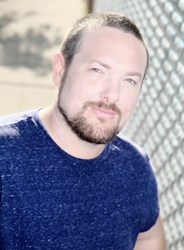 Sometimes in the darkest of night, there can be the brightest of lights.
Des Moines, IA (PRWEB) October 21, 2013
As we celebrate the Thanksgiving holiday this year, music artist Josh Mottley is feeling especially grateful. In addition to seeing the release of his new album Color of Your Eyes, he looks forward to a full recovery from a health condition that drastically changed his life, yet inspired a burst of musical creativity.
On the night of December 13th, 2012, Josh Mottley awoke to a terrible pain in his abdomen. He was rushed to the hospital as he slipped in and out of consciousness. His intestines had ruptured and he was suffering from septic shock. He was near death and would undergo seven hours of emergency surgery. As anesthesia took over, he began to dream. Accompanying his haunting vision was a musical experience.
Mottley was bedridden and in recovery for two months. During this time, with only pen and paper, he started to bring his dream to life. The music of this dream was, note for note, what you will hear on this album. He gathered what remained of his music gear and brought it to his bedside.
This album is the musical account of a life-altering and deeply personal experience. It brings you through the fear and despair and, eventually, to hope. In Mottley's words, "sometimes in the darkest of night, there can be the brightest of lights."
Surfview Records will have Josh Mottley's album Color of Your Eyes in worldwide release on Tuesday, November 26th, 2013. The CD is a rich melodic landscape of beautiful New Age electronica. Its thunderous rhythms and sensual symphonies touch upon a wide array of emotional storytelling. The music brings to life the wondrous vision of a truly epic tale.
Celebrated by his doctors and nurses for his astounding optimism, despite his medical ordeal and ongoing obstacles, Josh is frequently contacted to provide informal counseling and moral support to despairing patients with similar challenges. His message of hope and his praise for the spiritual benefits of creative productivity resonate with those badly needing encouragement and a new direction. As he leaves each patient, Mottley happily autographs and donates a CD of his new musical meditative journey, leaving them with a sonic path for their own self-discovery.
As Josh recovers in his Iowa home, he looks forward to returning to work and to the activities he enjoys. He loves hiking and camping with his dogs when he's not working as a music producer, teacher and graphic artist. Despite his struggles, Josh is coping with his health setbacks with remarkable perspective. "I never, ever give up. No matter what."