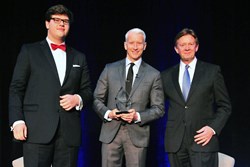 Washington, DC (PRWEB) October 20, 2013
CNN anchor and journalist Anderson Cooper has been named American University's 2013 Wonk of the Year. Last year, former President Bill Clinton was named AU's inaugural Wonk of the Year.
American University's Kennedy Political Union (KPU), a student organization named for the Kennedy family to acknowledge their public service, and inspired in part by President John F. Kennedy's seminal 1963 AU commencement speech calling for a nuclear test ban treaty, presented the award on behalf of the students to Cooper prior to his speech tonight which he delivered to the AU community during alumni and family weekend.
The American University Wonk of the Year Award recognizes a well-known individual who represents the embodiment of a wonk—someone smart, passionate, focused and engaged, who uses their knowledge and influence to create meaningful change on the most important issues and challenges facing our world.
Chandler Thornton '15, KPU's student director, believes Cooper exemplifies the values of AU's wonks. "Anderson is a true innovator in the field of broadcast journalism," he says. "We also thought he was someone who really tries to uncover all angles of a story." In addition, Thornton spoke of a desire to diversify the image a wonk. "Many people have a perception that wonks are more involved in public policy. We wanted to expand that perception to include experts in other fields, such as media and journalism," he explained.
Cooper is one of CNN's megastars and has extensively covered the conflicts in Egypt and Syria, the debt ceiling crisis, the NSA surveillance programs, the Sandy Hook shooting massacre, and the Boston Marathon bombings. He garnered widespread praise for his emotional, hard-hitting reporting on Hurricane Katrina, which helped CNN win a Peabody Award. He's also won numerous Emmy Awards, including two for his coverage of the 2010 earthquake in Haiti. In addition, he is a regular correspondent for CBS's 60 Minutes.
AU School of Communication dean Jeffrey Rutenbeck also applauded the selection of Cooper: "His sharp analytical approach, his passion for accountability, and his wide range of engagements, including presidential debate moderator and best-selling author, make him an ideal choice."
In 2010, American University adopted "Wonk" to show how members of the American University community apply their knowledge and passion in all areas of education and scholarship—communications, business, law, science, humanities, international service, the arts, and even policy—to have an impact on the issues they care about.
People who are driven by intellectual curiosity, strive to be experts in their field, and have a passion for creating meaningful change are known as wonks. Cooper didn't become a wonk overnight. It happened by exploring his potential, and immersing himself in the culture and world around him. American University's students, faculty, and staff take great pride in claiming their wonk status—just like Anderson Cooper.
About American University
American University is a leader in global education, enrolling a diverse student body from throughout the United States and nearly 140 countries. Located in Washington, D.C., the university provides opportunities for academic excellence, public service, and internships in the nation's capital and around the world.