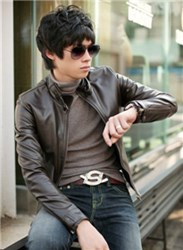 With fashion trends constantly changing, we alwyas come up with innovative designs and features.
(PRWEB) October 20, 2013
Recently, 4leafcity.com, the top-ranking online dress retailer, has released its new collection of men's leather jackets. Now, the website of 4leafcity.com features many fashionable jackets for men; the company provides free delivery for all customers worldwide if the order is above $50.
All the jackets are now offered at very low prices. Low prices don't always mean poor quality, and the new designs offered by 4leafcity.com have a similar quality level as those at a retail shop. The CEO of the company states that these designs are to be "top designers approved". Moreover, 4leafcity.com has updated its website, and aims to create an easy, relaxed and comfortable shopping experience for the clients worldwide.
"October is a very important sales month and we launched the promotion not only to show our appreciation to our customers, but also to receive public awareness of our brand," says the CEO. "As a leader in the industry, we are offering a wide range of men's clothing for people worldwide. Please visit our store as soon as possible, because out of stock."
4leafcity.com offers incredible savings on popular dresses and suits for men and women. Its customers can save up to 80% off on best-selling styles of dresses in the market. More than 2,000 different dress styles are available the website of 4leafcity.com.
About 4leafcity.com
4leafcity.com is one of the top-rated online retailers of women's dresses and men's suits. It is currently preparing many case studies that educate its young designers while helping them develop self-esteem, confidence and love of learning. For a full list of services and to learn more about 4leafcity.com, please visit http://www.4leafcity.com/product-men-s-leather-jackets-009003002.aspx