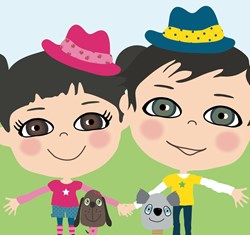 YouTube is a powerful way to reach out to our audience. By delivering short and powerful video's we can make our knowledge freely available to parents and teachers who lack time or resources.
Geneva, Switzerland (PRWEB UK) 21 October 2013
Mila Publishing Sarl, publisher of the popular SECRET SUITCASE app and the Maks & Mila children's books, is pleased to announce the official launch of the Maks & Mila YouTube Channel. The first show -- "What is Dyslexia: Helping Children with Learning Disabilities" -- will be available from October 22, 2013, 12.00 hours CEST.
The channel is dedicated to making reading, writing, happiness and confidence accessible to all, by giving practical tips and tools to parents and teachers. The first show focuses on sharing what parents and teachers can do to help children with learning disabilities. The show informs parents and teachers on dyslexia and provides numerous sources for them to further explore. Furthermore, the show gives parents and teachers a step by step guide on how they can improve their child's or student's level of self-confidence.
Merel Bakker, CEO of Mila Publishing Sarl, states that: "YouTube is a powerful channel to reach out to our audience. Nowadays many parents and teachers lack time and/or resources to get informed on certain subjects and with this channel we seek to inform to them through short and powerful video's, which are also freely available.".
The first book of the Maks & Mila children's book series, as well as the free SECRET SUITCASE app, were launched in July of 2013 and received outstanding reviews from notable reviewers and websites:
"Maks & Mila on a Special Journey is a worthy trip for young minds to make." – Celina Cuadro, Bookideas.com
"What a great concept! Want kids to think positively? Help by taking note of when good things are happening all around!" – Heather H., Smart Apps For Kids
About Mila Publishing:
Mila Publishing is Swiss based publishing company, founded by Merel Bakker who is a writer and certified mindfulness expert. Mila Publishing seeks to make reading, writing, happiness and confidence accessible to all, by delivering a range of products that are dedicated to this cause. Mila Publishing donates 1 book for every 6 books sold to Books With No Bounds, who distributes the books to children and schools who need our support.
"Maks & Mila On a Special Journey" is available for purchase on Amazon (17.99 USD) and in eBook format in the iBooks Store (1.99 USD). The free Secret Suitcase app can be downloaded from iTunes.