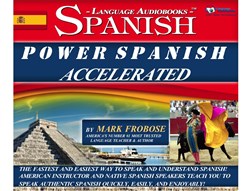 'It's very smart to learn a language on your smartphone.' - Mark Frobose, Author of Power Spanish Accelerated
Champaign, Illinois (PRWEB) October 22, 2013
How smart is it to use a smartphone to learn a new language?
"Very smart," explains Mark Frobose, founder of LanguageAudiobooks.com and bestselling author of Power Spanish Accelerated, Power French Accelerated, and Bite-Sized Mandarin Chinese.
"You see people everywhere with their smartphones," states Frobose. "What people don't see is how easy it is for them to use their phone to become fluent in another language."
So how exactly can a person learn to speak a language on a smartphone?
"Anyone with an iPhone or Android today may not know it, but they already own the best portable language laboratory on the planet," explains Frobose, whose downloadable Power Italian Accelerated is available on Audible.com.
Frobose, who created Audible.com's bestselling "Mexican Spanish Accelerated" and "Power French Accelerated" goes on to say that a smartphone is even better than a computer for learning languages. "A computer ties people down and a smartphone liberates language learners," adds Mark.
How does one use a smartphone to learn a language? Here's how it works:
1. Go to a place that sells online audio language programs, like Audible.com.
2. Find a good language program.
3. Download the language program directly to an iPhone or Android.
4. Take the smartphone everywhere and play the language program whenever possible.
"It's that simple," says Frobose. He should know. He speaks seven languages fluently and has created more language programs than any living person in the world.
Mark Frobose's downloadable language programs may be accessed by going to Amazon.com or Audible.com and searching Power Spanish Accelerated, Mexican Spanish Accelerated, Power French Accelerated, Bite-Sized Russian in Ten Minutes a Day and Freakishly Easy French.