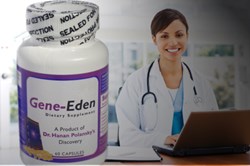 In the past, doctors were taught that HSV-1 causes illness 'above the waist,' while HSV-2 causes illness below the waist. But, for over a decade, HSV-1 has been migrating below the waist as cause of genital herpes. - Dr. William Schaffner, LiveScience.com
Rochester, NY (PRWEB) October 21, 2013
A new article on LiveScience.com details the results of a recent study. The article said that "Teens today may be more susceptible to one type of genital herpes infection once they become sexually active than teens in years past (1)."
Why is that?
In the past, most teens were exposed to HSV-1 (oral herpes), which causes cold sores and fever blisters, when they were children. In contrast, due to better living conditions and better hygiene, many people that became teenagers between 2005 and 2010 were not exposed to HSV-1 in their early years. Thus, these teens do not have antibodies against the oral herpes virus, which is the most common herpes infection.
The problem that arises comes from two facts. First, besides cold sores and fever blisters, HSV-1 can also cause a genital herpes infection. Secondly, many teens consider oral sex as safer than vaginal intercourse. Thus, teens infected with HSV-1 (oral herpes) may have oral sex and transfer the herpes virus to the genitals of their partners.
"In recent years, the (HSV-1) virus is causing an increasing portion of genital herpes infections - as many as 60 percent (are infected) (1)."
Dr. William Schaffner said that "In the past, doctors were taught that HSV-1 causes illness 'above the waist,' while HSV-2 causes illness below the waist. But, for over a decade, HSV-1 has been migrating below the waist as a cause of genital herpes. The reason for this appears to be a decrease in protection against HSV-1, coupled with an increase in the prevalence of oral sex, which can spread oral herpes viruses from the mouth to the genitals (1)."
As protection against HSV-1 decreases, polyDNA suggests using Gene-Eden-VIR. The product is a natural antiviral supplement that targets the latent HSV-1. That is, the virus before it reactivates and causes a cold sore, fever blister, or genital herpes outbreak.
A recent post marketing clinical study showed that Gene-Eden-VIR is safe and effective. Up to 70% of those studied reported a decrease in viral symptoms. (2)
Each ingredient of Gene-Eden-VIR was chosen through a scientific approach. Scientists scanned thousands of scientific and medical papers published in various medical and scientific journals around the world to identify the safest, most effective natural ingredients that target the latent form of HSV. (2)
To learn more about Gene-Eden-VIR, and the latent herpes virus, visit http://gene-eden-kill-virus.com/Herpes-Remedy.php. All orders of Gene-Eden-VIR are completely confidential, and no information is shared or sold to any third party. Privacy is assured.
References:
(1) http://www.livescience.com/40492-genital-herpes-infection-teens.html
(2) http://www.scirp.org/journal/PaperInformation.aspx?PaperID=36101
polyDNA is a biotechnology company that develops dietary supplements using the unique scientific method developed by Dr. Hanan Polansky, which is based on Computer Intuition.
In addition to his unique scientific method, Dr. Polansky published the highly acclaimed scientific discovery, called Microcompetition with Foreign DNA. The discovery explains how foreign DNA fragments, and specifically, DNA of latent viruses, cause most major diseases.
polyDNA developed Gene-Eden-VIR, an antiviral natural remedy that helps the immune system kill latent viruses.