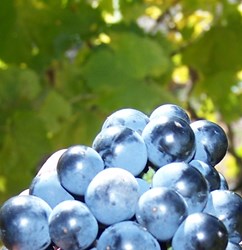 'There are great cool-climate red varieties planted on the peninsula,' shares Adam Satchwell of Shady Lane Cellars. 'Our Pinot Noir shows an intense aromatic and more elegant version of Pinot. Cabernet Franc and Merlot are also showing great results.'
Leelanau Peninsula, Michigan (PRWEB) October 20, 2013
It's harvest time along the Leelanau Peninsula Wine Trail. As vintners work hard plucking plump grapes from the vines and pouring samples of wines in the jam-packed tasting rooms, they are also gearing up to showcase the quality red wines being produced on the peninsula.
The Hunt for the Reds of October event is being hosted Friday trough Saturday, October 25 -27 in partnership with the American Red Cross of Northwest Michigan. The vintners are offering free tastings of featured red wines throughout the weekend while raising funds and awareness for the American Red Cross.
The American Red Cross of Northwest Michigan coordinates volunteers for both local and national disaster responses, provides vital Services to the Armed Forces, Teaches lifesaving Health and Safety skills as well as collecting essential blood from local donors throughout Benzie, Grand Traverse, Kalkaska and Leelanau counties.
"We are so pleased to partner with such a great association and are looking forward to raising awareness of our local community's needs while having a good time," said Kevin Bavers, executive director of the Northwest Michigan chapter. "Every gift helps and the added financial support will help deliver Red Cross services in our local community."
In addition to raising awareness of the local services, the Leelanau vintners are hoping that wine enthusiasts will discover high quality red wines produced in the region. White wines have been growing on the peninsula for half a century, but the number of red wines being produced in the region has only increased in more recent decades. These reds are releasing nicely, with great character and flavors reflective of the region. Varietals like Pinot Noir, Cabernet Franc and some lesser-known varietals, like Lemberger, are growing as well as reds from renowned regions all over the world. Michigan, as a whole, is getting more and more attention for red wines.
"There are great cool-climate red varieties planted on the peninsula," shares Adam Satchwell, winemaker of Shady Lane Cellars of Suttons Bay. "Our Pinot Noir shows an intense aromatic and more elegant version of Pinot. Cabernet Franc and Merlot are also showing great results. A better understanding of how to grow these varieties has resulted in bigger, more complete reds."
Satchwell's 2010 Blue Franc won Best of Class at the Michigan Wine and Spirits Competition, and several of his other reds have won gold medals at prestigious national competitions. Leelanau reds, in general, are earning an increasing number of medals, both in Michigan and nationally. During the event, Shady Lane is pouring Franc -n- Franc and Pinot Noir.
Other great features for the weekend, to name just a few, include a fabulous 2011 Pinot Noir at Laurentide Winery, who will be donating ten percent of the featured wines sales to the American Red Cross. At, L Mawby, try M. Lawrence Redd and save $2 per bottle on your purchase with an additional $1 being donated to cause.
To participate in the event, attendees take a self-guided tour along the Leelanau Peninsula Wine Trail and use passcode: "the hunt is on" at the tasting bars to get samples of featured red wines. The event is free, though attendees are encouraged to support the American Red Cross by making donations in canisters available at the tasting bars.
For more information about the event, call (231) 271-7100 or go to http://www.lpwines.com/redwine/.
# # #
The Leelanau Peninsula Vintners Association (LPVA) is a 501c3 founded in 1998 as a collaboration of regional winemakers. The LPVA consists of 25 winery members located in the Leelanau Peninsula AVA. The Leelanau Peninsula Wine Trail is the state's oldest and largest. The purpose of the association is to promote regional wines and wine destinations of its member wineries. Learn more at http://www.lpwines.com.