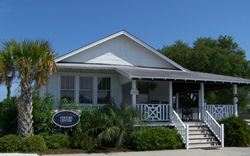 The Chamber has been serving the interests of citizens, tourists and the business community for over 30 years
Wrightsville Beach, N.C. (PRWEB) October 21, 2013
Prime oyster season has arrived and Wrightsville's Chamber of Commerce is launching an annual Oyster Roast on Sunday, Nov. 3, 5-7 p.m. This all you can shuck and eat festival will be surfside, on the new pier at Oceanic Restaurant. All who love fresh local oysters and the beach are invited to attend.
Event proceeds will benefit historic Howell Cottage, built in 1940, later relocated to burgeoning Historic Square on Wrightsville Beach. Historic Square, off Salisbury Street near Town Hall, is also home to Myers Cottage, built in 1907, and Palmgren-O'Quinn house, built in 1946.
Wrightsville Beach has over 20 historically designated properties, representing a span of Carolina coastal living and architecture from 1907 to 1955.
Howell Cottage is home to the Wrightsville Beach Visitor's Center and Chamber of Commerce.
Wrightsville Beach Chamber of Commerce is a nonprofit organization, "serving the interests of citizens, tourists and the business community for over 30 years," says Sue Bulluck, Chamber president.
Due to the generosity of local sponsors, Chamber Oyster Roast tickets are only $25. This includes all you can eat local oysters, sides and one drink ticket. Ticket sales are limited.
To buy tickets visit: http://www.wrightsville.org
Contact:
Sue Bulluck, President
Wrightsville Beach Chamber of Commerce
Historic Square, Salisbury Street
Email: Bks42(at)aol(dot)com
Email: WrightsvilleBeachChamber(at)gmail(dot)com
Phone: 910-619-2026 or 910-799-9703
Historically Designated Properties
Robert B Butler | PR | http://www.NCPressRelease
Serving nonprofits, communities, foundations and supporting companies