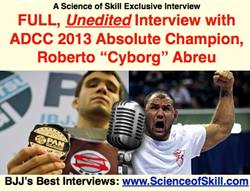 There is no 'right' and 'wrong' is Jiu Jitsu, it is creative, it is about finding what truly works for you. This helped me with my Tornado guard, and with my Evolution. - Roberto "Cyborg" Abreu
Miami, FL (PRWEB) October 21, 2013
This weekend of October 19th - 20th 2013 marked the coming of the most anticipated event in the world of grappling, the ADCC World Championships - this year held in China. Miami-based BJJ athlete Roberto "Cyborg" Abreu was interviewed with us before his departure, knowing full well he'd be up against the absolute finest grapplers on the planet.
In their match at 99+kg, Buchecha ends up taking advantage of Cyborg's back with a quick takedown to an almost side control position. Coming back again in the absolute, Cyborg used superior guard passing - and an apparently better stamina to out-work Buchecha and land in side control multiple times, coming back for a decisive 10-0 victory after an earlier defeat.
Each year, the ADCC is a more refined competition - with veteran submission grapplers and grappling champions hailing from nearly every continent. Even just 10 years ago, the event featured some athletes with relatively little knowledge of submissions. Freestyle wrestling, judo, or other native wrestling styles would all compete for one prize - but 2013 is different. Each division is stacked with dangerous athletes, trained in the technical arts, and conditioned like professionals.
Cyborg's game has always been an aggressive one - and in his absolute division matches, we see this come out in spades. In his interview with us, Cyborg emphasizes how he is always aiming to create new positions when he is rolling - keeping his mind open to new possibilities, and getting used to reacting and responding in new and unique positions. This certainly came in handy against the unpredictable Buchecha.
See the Blow-by-Blow Match Breakdown between Cyborg and Buchecha at the Science of Skill Blog, and know that this history in the making. David versus Goliath - and David wins this time.
Great work to both athletes - showing tremendous heart throughout the event - an both bringing home major trophies. Download the entire interview with ADCC 2013 Absolute Champion Roberto "Cyborg" Abreu right here - and be sure to take notes. You'll be entering the mind of the man who can decisively be called the best grappler on EARTH this year (even if he was the underdog).

Daniel Faggella, Founder, Science of Skill, LLC. No Gi Pan Am Champion, Writer for Jiu Jitsu Magazine, Jiu Jitsu Style, Others. #1 Bestselling Author of "BJJ Techniques to Defeat Bigger, Stronger Opponents." http://www.MicroBJJ.com, info(at)microbjj(dot)com, 401-284-6817.