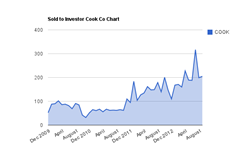 Chicago, IL (PRWEB) October 21, 2013
"Do you remember the 21st day of September?" With a simple phrase, some September in the 70's was immortalized forever by the band Earth, Wind and Fire…but what did this September have to offer? More contradictory trends in the Chicago real estate foreclosure market.
This summer was a hot one for Chicago – not in actual temperatures, but in the world of foreclosures. The Illinois Foreclosure Listing Service kept the records and it was clear to see that though the numbers fluctuated from week to week, the overall impact was a good one. Last month's numbers are a good example of that, in that they reflected an occurrence first seen in July of this year. The number of new foreclosures increased this month by 3.62 percent when compared with August's numbers, but the number of properties sold to investors also increased. This is odd because, typically an increase in new foreclosures would indicate a poor market for investing. However, Chicago has proved again and again in the past few months that this may not be the case.
Last month's 1.98 percent increase of properties sold to investors couldn't quite cancel out the influx of new foreclosures, but that isn't uncommon for this time of year. Generally the summer season is hot and as the temperatures drop, so do the sales numbers on Illinois foreclosures. Still, certain counties within the Chicagoland area (made up of Cook, Dupage, Will, Kendall, Kane, McHenry, and Lake Counties) flourished last month – most notably Kendall County.
Kendall County is one of the smaller markets and is usually one of the slower-moving ones, as well, but September 2013 proved to be a big month for the small county. Kendall was one of only three counties (along with Dupage and McHenry) that had a decrease in new foreclosures last month, dropping by 8.06 percent from August. On the flip side, it also had a significant increase in properties being sold to investors, jumping by a huge 85.71 percent. Another small county with some important numbers last month was Kane County, which increased the number of properties sold to investors by 18.60 percent, though, interestingly enough, it also had the largest increase in new foreclosures with a 35.81 percent increase.
Dupage County had the largest drop in new foreclosures in September, which is positive since it is the second largest county in the Chicagoland area and could impact the market in a more immediate way. There were 225 new foreclosures in Dupage in August and that fell by 9.56% to 227 new foreclosures in September. Unfortunately, though there was a slight increase in properties sold to investors, it was very slight indeed at just 2.78 percent.
Still, the overall number of foreclosures completed (made up of both REO and properties sold to investors) for the month was 2,899, which was a 10.27 percent increase from August's 2,629. On the see-saw that is Chicago real estate, it's important for the right numbers to go up and come down at the right time. As September 2013 is compared to August 2013, the numbers are heading in the right direction, and that is only increased by comparing this September to last September 2012. The number of new foreclosures has decreased by 41.14 percent and foreclosed properties selling to investors have increased by 10.46 percent over the past year.
Although this may not be a September to remember in as glorious a fashion as Earth, Wind and Fire would have, it stands out as a positive reflection of the trends seen in Chicago and throughout the Illinois foreclosure real estate market.