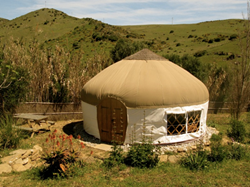 (PRWEB) October 24, 2013
Glamping Hub has determined the specific thing that is currently luring the most visitors to its website. The yurt. Over the past three months, more than 25% of the platform's traffic has initially been interested in yurt accommodations, making it the most searched form of accommodation on the platform. But this research has revealed more than that. The yurt is not just a popular type of accommodation; it is also the traveler's gateway to the glamping world. And Glamping Hub is capitalizing on that by composing its 170+ carefully curated collections.
Over the past year, Glamping Hub has been relentlessly analyzing the inflow of traffic to its platform. Because luxury camping is such a new market in the travel industry, discovering the paths and touch points of visitors is essential to understanding consumer connection to the idea, and it also helps guide the structure and framework of the GlampingHub.com platform and its offerings.
Of all of the different types of luxury camping and alternative lodging, the yurt is one of the most widely accepted and understood forms accommodation, so it is not a surprise that 25% of travelers looking for a glamping holiday would start their search there. But by analyzing the routes that visitors take on the platform, Glamping Hub has learned that although the yurt is one of the dominant players, it is also becoming the gateway to the more unique accommodations, such as tree houses, tipis and eco pods.
"We see thousands of consumers finding GlampingHub.com by doing an Internet search with the term "yurt", but we have noticed that once they begin to dig into the website's diverse inventory, their route changes course to more unique types of sites," says Talal Benjelloun, Glamping Hub COO. "This realization has helped us to organize and improve our platform to make it as easy as possible for new and returning visitors to discover all the different facets of glamping…with things like collections, for example."
The use of curated collections to draw travelers towards certain destinations or types of accommodations or amenities is not a new idea in the hospitality industry, but for Glamping Hub it has proved to be especially important. Consumers looking for a glamping accommodation may become overwhelmed when presented with hundreds of wildly different options; comparing apples to oranges is somewhat of an understatement when it comes to alternative lodging. However when this enormous variety of options is gathered into smaller, more defined groupings, the search becomes much more manageable and enjoyable.
There is definitely a learning curve when it comes to glamping. By understanding the movement of traffic to and through the website, Glamping Hub has been able to use their collections to help guide visitors who may only know about the yurt to their ideal accommodation, and also provide a resource for travelers taking their first steps into the world of alternative lodging.
About Glamping Hub
Launched in 2012, Glamping Hub is the world's first online booking platform offering luxury camping and alternative accommodations on all 5 continents. With over 700 unique glamping sites in 57 countries, and a vast range of prices and amenities, Glamping Hub connects travelers with nature in a whole new way, providing off-the-grid, sustainable and truly one-of-a-kind lodging and outdoor adventure in some of the most breathtaking landscapes on earth. For more information, please visit http://glampinghb.com.