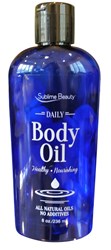 'We are so excited to now offer the pure and natural Daily Body Oil,' says Kathy Heshelow, founder of Sublime Beauty®. 'We worked with a chemist to design this oil with specific anti-inflammatory, anti-bacterial and anti-aging qualities.'
St. Petersburg, FL (PRWEB) October 21, 2013
Sublime Beauty® introduces its new Daily Body Oil this week.
"We are so excited to now offer the pure and natural Daily Body Oil," says Kathy Heshelow, founder of Sublime Beauty®. "We worked with a chemist to design this oil with specific anti-inflammatory, anti-bacterial and anti-aging qualities. It is great to follow after dry Skin Brushing."
The Daily Body Oil comes in an 8 ounce cobalt blue bottle with flip-top. It features Sweet Almond Oil, Sesame Oil, Jojoba, Aloe and Argan Oil - plus Vitamin E.
Purchasers receive a 7 page product report all about the benefits of each oil, sent by email.
"A wealth of vitamins and minerals are found naturally in these oils, and many have important anti-inflammatory and anti-oxidant qualities," says Heshelow. "Several also have natural anti-bacterial qualities."
Oil is a superior way to hydrate and moisturize skin. In addition, some oils can help reduce or eliminate stretch marks and heal irritations. What it placed on the skin is absorbed into the body, and this oil includes NO additives, chemicals or fragrances.
"What a great combination of ingredients for our body's largest organ, the skin. Let the glow begin," Heshelow says.
The body oil is available at Amazon, and will also soon be available on a Sublime Beauty® Webstore.