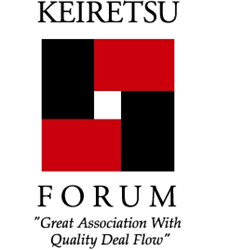 Philadelphia, PA (PRWEB) October 21, 2013
Keiretsu Forum Mid-Atlantic (K4-MA) has announced Rob Neville as the keynote speaker of the 14th Angel Capital Expo (ACE) being held October 23 at Drexel University. Neville is the most successful fundraiser in Keiretsu Forum's 12 years of investing, raising $6.2 million in a single round of investing from the Keiretsu network.
Rob Neville is the CEO and president of Savara Pharmaceuticals, Inc., producer of AeroVanc™ (vancomycin hydrochloride inhalation powder), the first inhaled antibiotic being developed to address the growing population of MRSA-infected cystic fibrosis patients. Neville's participation with Keiretsu Forum helped take AeroVanc through phase two clinical trials.
At the Angel Capital Expo, Neville will discuss his success raising funds with Keiretsu Forum as well as provide insight to the necessary pieces of a successful pitch. Additional guest speakers include Randy Williams, founder of Keiretsu Forum, and others to be named. ACE was organized by K4-MA and will be hosted by Drexel University's Earl Mack School of Law, The LeBow College of Business, the Close School of Entrepreneurship, and the Office of the President.
The Angel Capital Expo is designed to foster collaboration among early-stage companies, angel groups and the larger investment community. It will take place on Wednesday, October 23 from 7:15am – 6:30pm at Drexel University's Bassone Building (3140 Market Street, Philadelphia, PA). ACE was initiated in San Francisco as the signature event of Keiretsu Forum (K4).
Attendees of ACE will include approximately 100-150 accredited angel investors from the mid-Atlantic region and elsewhere in K4's global network of more than 900 investors, accredited investors from other area angel groups, independent angel investors, VCs, and family wealth management professionals.
The featured presenters at ACE will include 12 early-stage companies in Internet-SaaS-cloud technology; healthcare, life sciences and medical devices; consumer products; clean tech and energy solutions; software-security-telecommunications technologies; and real estate. Four of the 12 presenters will be from K4's Israeli deal flow.
There will also be six early-stage "Fast Pitch" presenters from various technology, transfer, college and university business plan and idea competitions, as well as seed-stage programs.
"Typically K4-MA investors have access to quick and easy yet quality deal flow," says Howard Lubert, K4-MA's area president. "This expo will enable participants access to investment opportunities that have been vetted by a trusted source, opportunities to invest across diverse sectors, and entrée to other investors with comparable interests."
Those who are interested in registering may email Info(at)KeiretsuForum-MidAtlantic(dot)com or call +1-610-971-4067.
About Keiretsu Forum
Keiretsu Forum is a global angel investor network with more than 900 accredited investor members throughout 27 chapters on three continents. Keiretsu Forum Mid-Atlantic (http://www.KeiretsuForum-MidAtlantic.com) consists of four chapters that function as a single entity – Philadelphia, DC, Pittsburgh and New York. Keiretsu is a Japanese term for a group of organizations with interlocking business relationships, and Keiretsu Forum is a group of accredited investors with interlocking investment interests. Each chapter or region meets monthly to present rigorously screened candidates for investments. Keiretsu Forum's mission is "Great Association with Quality Deal Flow."
The Mid-Atlantic Region presents approximately five deals a month, 60 a year, to its members and accredited investor guests. Slightly more than 10 percent get funded, which is higher than the industry average.
Approximately 36 funding applications are submitted each month to the K4-MA DealRoom website, http://www.K4-DealRoom.com and vetted by industry specialists. About 10 are then vetted by members at monthly screening meetings where they participate in a highly structured presentation-and-feedback-learning session. Four to five of the screened companies are then invited to present at subsequent monthly Forum meetings.
Entrepreneurs invited to move forward to the Forum meetings must participate in mandatory professional coaching sessions to optimize the delivery of their presentations and also agree to participate in the road show to all four cities in the region, with exposure to approximately 100 investors. Subsequently, information about their companies is posted on the organization's online global deal room for reference by all 900+ members. For global information visit: http://www.KeiretsuForum.com.