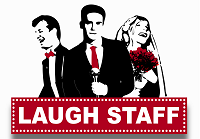 A homegrown festival needs a homegrown sponsor.
Cleveland, OH (PRWEB) October 22, 2013
The comedians have been selected, the venues have been booked, and Laugh Staff is pleased to announce that they will be one of the sponsors for the 6th annual Cleveland Comedy Festival.
"It's great to be a sponsor for not only a comedy festival, but one that is hosted in Cleveland where we call home," said Laugh Staff co-founder Cameron Amigo. "We are a team of comedians who have been part of the Festival in the past and we have several consultants who are participating this year. We wanted to make sure Laugh Staff stood behind them as well as all of the other great, local talent."
The Festival kicks off on November 11 and continues through November 17. It has grown considerably from the previous year, including 24 shows at Playhouse Square and 26 additional shows at venues all over the Greater Cleveland Area.
Laugh Staff consultants Curtis Cook and Kali Fencl are competing in the contest portion of the Festival and co-founder, Josh Womack, will be performing in the fundraiser, "Stand Up For Downs," which helps raise money to fund programs and education for Down Syndrome.
For more information about Laugh Staff, Inc., visit http://www.laughstaff.com, email info(at)laughstaff(dot)com.
About Laugh Staff, Inc:
Laugh Staff, Inc. was founded in 2012 by a team of comedians and writers in Cleveland, Ohio. Laugh Staff helps their clients with best man speeches as well as providing best man speech examples on their blog. They assist best men and maids of honor in speech-editing, speech writing, and provide training on speech delivery. Recognizing the importance of the big day, Laugh Staff's professional comedians work with best men and maids of honor to ensure they make a lasting impression.