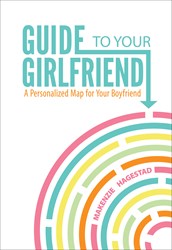 The ultimate blueprint to a rewarding relationship.
Dallas, Texas (PRWEB) October 28, 2013
New book "Guide to Your Girlfriend: A Personalized Map to Your Boyfriend" (Brown Books Publishing Group) by Baylor University student, Makenzie Hagestad, a member of Kappa Alpha Theta sorority, offers readers a refreshing spin on the dating game with the ultimate blueprint to a rewarding relationship.
Throughout her life, Makenzie saw countless instances of miscommunication between herself and the boys she dated. She thought surely there was a clever way to facilitate basic communication between the sexes.
Her eureka moment came in 2012 when her then-boyfriend continuously found himself in the dog house! In an attempt to help him, she created a blueprint to her heart— a handmade booklet to be used as a tool to decipher the miscommunication between them and spark some romance in the process. Come to find out, it worked.
Now she wants to help other couples straighten out the lines of communication between them. "Why wait to find out what your girlfriend really means when she is moody, anxious, or excited," says Makenzine. "'When you can have a personalized 'playbook.'"
"Guide to Your Girlfriend" has a fun, fill-in-the-blank format that will help couples avoid communication malfunctions. It's the ultimate cheat sheet.
For example, tell your boyfriend exactly what he needs to know to understand your moods, plan the perfect date, and show he cares. In other words, don't let the relationship get lost in translation.
"Guide to Your Girlfriend" provides answers, tips, and step-by-step instructions on how to avoid the everyday pitfalls and how to surprise your girlfriend in the best of ways.
From important dates to your favorite flowers, "Guide to Your Girlfriend" provides your guy with the perfect opportunity to learn everything he needs to know. "Guys operate differently," says Makenzie. "Most of the time we know our man's favorite everything, whereas he probably doesn't know ours."
"For the guys, this book is a gift made specifically for them," says Makenzie. "They'll thank their girlfriends later. Trust me."
As for the girls, she says, "Think of this book as a way for you to lend your boyfriend a hand before he even knows he needs one." Further adding, "Give your guy a clue and help him discover what makes you––you."
When a situation arises and the guy isn't sure what to do, he can look to "Guide to Your Girlfriend" to navigate his way through. It will provide him with all the information he needs to be the perfect boyfriend.
Makenzie already has another creative idea up her sleeve. It's hush-hush for now but could very well be the next Guide book to...?
To learn more, visit: http://www.GuideToYourGirlfriend.com.
Books are available online and in bookstores.
About the Author
Makenzie Hagestad attends Baylor University in Waco, Texas, where she is majoring in fashion merchandising. She is already busy at work on her second book.
About Brown Books Publishing Group
Brown Books Publishing Group is a Texas-based, independent publisher. To learn more, visit: http://www.brownbooks.com.